Toddler Obsessed With Personal Injury Lawyer Gets Dream Birthday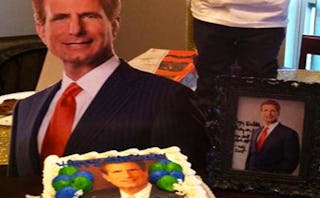 It's always hard trying to nail a theme for your kid's birthday party. Does he still like Minions? Is he as into Jake and the Pirate's as he used to be? Children are finicky and their interests change every day. One mom from Louisiana had no problem figuring out what to do for her child. L'erin Dobra's toddler has a very unique interest: personal injury lawyers. Well, one in particular.
Morris Bart is a personal injury lawyer in New Orleans whose commercials must be really catchy, because they caught the interest of Dobra's two-year-old. She told The Advocate, "Before he could walk or talk, every time the Morris Bart commercial would come on, he was just fixated," she says. "You couldn't talk to him. You couldn't do anything with him. He would just sit and stare at the TV. You could call his name, give him a toy. He didn't care. He just wanted to watch the Bart commercial. He's been that way ever since, and when he started talking he would say, 'One call' or 'Bart, Bart, Bart, Morris Bart, Morris Bart.'
"They were not his first words, but they were a close second and third," says Dobra. Here's a photo of the child transfixed by one of the lawyer's popular commercials:
Naturally, the child needed a Morris Bart-themed birthday party:
This is a major mom-win. Not only did she get a custom cake (when she said "Bart" the bakery thought for sure she meant "Simpson"), she also got her son Grayson a Morris Bart t-shirt and even tried to get the man himself to make an appearance. When he couldn't, the office sent along a signed 8×10 headshot. How awesome.
"One call, that's all." Okay, that is pretty catchy. Morris Bart himself wrote on his Facebook page, "Big shout out to the Dobra family. Congratulations on your adorable 2 year old, Grayson, and the very unique birthday party you gave him! I am very flattered and absolutely amazed by the world wide publicity the story of your party has generated. Watch out sports heroes, here comes the lawyers!"
Give the kid what he wants — it's his birthday. Good job, mom. This is adorable and hilarious.
This article was originally published on