Toddler Tries To 'Save' Sister During Wrestling Match, And It's Adorable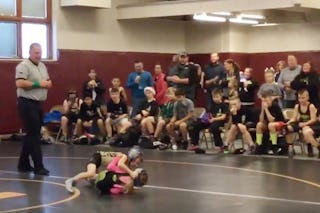 Image via Tori Prendergast
Brother of the year award, right there.
Need an extra shot of adorable this morning? A toddler mistook his sister's wrestling match for a real-life fight, and ran onto the mat to save the day.
A video of the heroic moment (which has racked up thousands of views), shows the two-year-old sprinting over to his sister's five-year-old wrestling opponent Ryan, and tackling him to the ground. It's pretty much Captain America: Toddler Edition. Check out the action sequence, which is proof that our next great Marvel superhero might be the world's most overprotective two-year-old brother.
The little boy raced center stage to protect his sister, with all the serious ferociousness of a mama cub. He broke up the match, and proceeded to jump his sister's opponent with some impressive strength. It is quite possibly the best entrance since that little girl interrupted her father's on-camera interview. And that is a high, high bar to beat.
His valiant effort was ultimately squashed, and he was quickly scooped up by the referee, and carried off the mat. This series of events resulted in a whole lot of amusement on the part of the entire wrestling team.
Thankfully, there wasn't any hard feelings between the toddler and his sister's opponent. In fact, Ryan's mother, Tori Prendergast, posted the video to Facebook, and wrote: "When the girl you're wrestling has a tough little brother, don't mess with his sister."
She later told The Huffington Post that she had missed the match, but her husband caught the few seconds of hilarity on tape.
"It was so cute. The whole place was cracking up when it happened," she said. "I only have boys, but if I had a daughter, I hope they would protect their sister like that."
Now, let this solid gold moment serve as inspiration for us all. The next time you're waiting out the long, long hours of your child's sporting match, remember that something surprisingly hilarious and heartwarming might just pop up in the middle. Fingers crossed that it involves a tiny tot sprinting across the field, because it honestly doesn't ever get better than that.