A 3-Year-Old Saved Her Dad's Life By Using FaceTime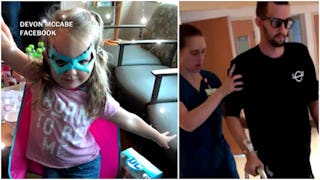 Image via Youtube/CBS News
A 3-year-old saved her dad's life when he collapsed
Today in incredible news, three-year-old Molly McCabe managed to save her dad's life through some very quick thinking. The toddler used FaceTime to call her mom when her dad collapsed, and that one small action made the biggest difference.
When Molly's dad Trevor fell off the couch and was unresponsive, the little girl sprang into action. She FaceTimed her mom, Devon, and told her what was going on.
"I answered and she was sobbing and crying. And she was just saying, 'Daddy, daddy, look at daddy,'" Devon told ABC News. "…I just started shaking all over from head to toe. Even though I'm an intensive care nurse, I couldn't even think straight. And Molly kept telling me, 'Mommy please come home.'"
Molly's quick response allowed Devon to call friends and neighbors, who rushed over and took Trevor to the hospital where he was treated for a clot in an artery of his brain. "She saved his life," Devon later wrote in a Facebook post.
The truly incredible thing about all this is that Molly doesn't even know how to read and still managed to figure out how to get Devon on the phone. There wasn't even a picture of her mom anywhere near her contact information.
"She knew which one to pick that called me. She recognized the letters that make up my name in my husband's phone," Devon said. "She didn't call anyone else that day, it's not like she accidentally called me. And I wasn't the most recent call so it wasn't like she just picked my name off the top. So I think she just remembered that when daddy calls mommy, this is what the letters look like."
Devon's co-workers bought Molly a superhero costume which, ABC reported, the toddler hasn't taken off since.
Trevor, meanwhile, is on the path towards recovery. Once in the hospital, there were still some complications the ER team had to contend with.
"Overnight…Trevor's brain began to swell and he became less responsive," Devon wrote in her Facebook post. "Our doctors worked quickly here to treat him. He is now on a breathing machine and just arrived back to the ICU after surgery."
Now, he's headed to rehab.
"We have a long road ahead of us, but he is young, strong, and healthy and we have faith that we will see this through to the best possible outcome."