2-Year-Old Accidentally Shoots Himself With Gun From Grandma's Purse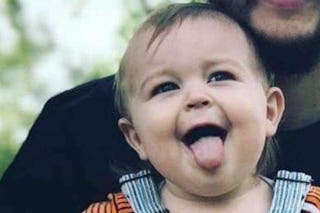 GoFundMe
The gun was not secure and the toddler was able to find it and shoot it within seconds
A two-year-old boy died tragically from a self-inflicted gunshot wound to the head after finding a gun inside his grandmother's purse and shooting himself with it. He died earlier this week as a result of the wound, the local coroner's office tells ABC News.
Kayden Stuber was staying with his grandmother and aunt while his parents were at work, and according to local authorities, the child went into his grandma's purse — which was sitting on the bed — and "in some way retrieved, was handling the gun when it discharged," Greenville County Coroner Kent Dill says. Deputies and emergency responders rushed to the scene, but Kayden was pronounced dead on the way to the hospital.
His grandmother, Bekki Gunter, had quit her job to take care of her grandson, USA Today reports. They had returned home from an outing on Thursday afternoon when Bekki placed her purse on her bed and went to the bathroom. Within seconds, Kayden figured out how to unzip the purse, pull the weapon — a teal-colored Glock pistol — from its holster, and pull the trigger.
Bekki's husband, Tim Gunter, tells USA Today that he and his wife are concealed weapon permit holders who are trained in firearms safety. "It was in her purse, zipped and sealed," Tim says. "You would never think he'd be smart enough, but he actually is."
Investigators have questioned Kayden's family members and confiscated the pistol. The incident is still under investigation by the Greeenville County Sheriff's Office and the coroner's office. A local news outlet The Greenville News, has filed Freedom of Information Act requests in regard to the shooting, as well as the 911 recording in the aftermath of the shooting.
Moms Demand founder Shannon Watts is calling for charges to be filed in relation to the incident, citing irresponsible gun ownership in the "preventable, senseless death of a two-year old."
Currently, no charges have been filed at this time, though the investigation is still ongoing.
Unfortunately, deadly accidents like this one are all too common in the United States. In April, a little boy accidentally shot and killed his younger sister with a gun he found in his family's car.
Kayden's family has set up a GoFundMe to help cover medical and funeral expenses: "A good bit of Kayden's funeral arrangements have been donated so the money we can raise on this GoFundMe page will be going directly to the family to cover medical expenses and other expenses that they have came across due to this tragic event."
This article was originally published on