Everyone Look At Your Toddler Stealing Prince Harry's Popcorn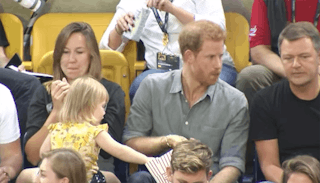 Image via YouTube/ The Royal Family Channel
Toddler starts eating Prince Harry's popcorn like NBD
What is it with kids and snacks? I can't get my kids to eat a full dinner but they will swoop in on my snacks like I haven't fed them in days. A snack will not survive the reach of a toddler.
All snacks are fair game for toddlers. All parents know this. Now Prince Harry does, too.
At the Invictus game in Toronto last night, Prince Harry was seated next to an adorable little toddler. He also had some popcorn — in the reach of said toddler. Toddler proceeded to do what toddlers do best — steal all the snacks.
They're sneaky, aren't they? It just goes on and on. And Harry is actually a good sport about it. As soon as he notices his snacks are disappearing into the cute little chubby hands of a toddler, he plays along. Because he's adorable.
The Huffington Post reports that the two-year-old's name is Emily, and she is the daughter of one of Prince Harry's friends, British Paralympian David Henson. She was seated on her mother's lap — in prime position to steal all the snacks.
Toddlers are entitled to all the snacks, dammit. It's basically their birthright. So if you've ever lamented your inability to keep your snacks away from your kids, take heart.
It even happens to royalty.
This article was originally published on