Toddler Brothers Survived Days Alone After Their Mom Died In A Car Crash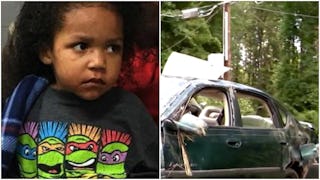 Image via KARK
Two toddlers survived after their mom died in a car crash
This past Monday, Arkansas police officers found a three-year-old boy named Kylen walking alone down the side of the road, covered with cuts and scratches. He was wandering around looking for help and officers later discovered that the child had been part of a car crash, which killed his pregnant mother.
When police found Kylen, they promptly brought him back to the station, bathed him, fed him, and then posted a picture on social media, hoping to track down the child's parents. They learned that his mother had been missing for a few days and returned to the spot where they originally found Kylen, hoping to track her down. That's when they found a vehicle "in a deep ravine not visible from the roadway," according to a police statement.
Kylen's one-year-old sibling was thankfully alive inside the vehicle, strapped into his child safety seat. Tragically, the children's mother Lisa Holliman was found dead outside of the car. It was only after her body was brought to the hospital that family members were informed that the 25-year-old was pregnant. "We didn't know," James Holliman, Lisa's father, told KARK. "We lost two."
Police officers are still scratching their heads over this awful turn of events. "We're trying to determine the timeline, but the mother was last seen Thursday, so they could have been out there two or three days," Ouachita County Detective Nathan Greeley told CNN. "This is one of the most remarkable things I've ever experienced in my 11 years at this department." Greely added that the boys, who were both dehydrated when they were discovered, must have gone through "pure hell" during those couple of days.
According to NBC News, Kylen managed to get out of his car seat and pull himself up through the sun roof. "When he climbed out of that car, seeing his mother dead like that like she was, he tried to wake his mom up," Holliman said. The little boy then climbed up a hill in order to get help.
Both children have been taken to the hospital and are in good condition. The police department is giving a big round of applause to the brave little boy who did everything he could to save himself and his sibling.
"It was a miracle and a tragedy, all in the same day," Greely said.