Tom Brady Is Getting Dad-Shamed For Cliff Diving With His 6-Year-Old
by Madison Vanderberg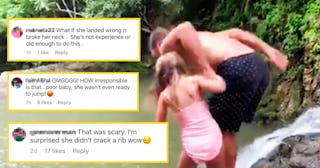 Tom Brady/Instagram
Tom Brady faced dad-shaming on social media after posting a vacation video cliff-diving with his young daughter
As long as parents exist, there will be parent shaming. Social media has allowed us to share our life with friends and family, but that access also lets people find more opportunities to shame parents for any number of things. Today in celebrity parent-shaming, New England Patriots quarterback Tom Brady was dad-shamed for cliff diving with his six-year-old daughter Vivian.
"If Vivi is going to be an Olympic champion one day, it probably won't be in synchronized diving. Daddy always gives her a 10 though!" Brady captioned what he thought was an innocuous vacation post.
We're not gonna lie, the video of Brady jumping off the cliff with his daughter is giving us second-hand anxiety, but Brady is a grown man who can presumably make his own parenting choices. Also, in the video there appear to be tour guides on the cliff and a number of people already swimming in the water, presumably after jumping in themselves. That all being said, the internet felt differently and chimed in to tell Brady that he's a bad dad.
"That was scary, I'm surprised she didn't crack a rib," wrote one commenter. "What if she landed wrong [and] broke her neck. She's not experienced or old enough to do this," said another.
And that's just the tip of the iceberg. There was plenty of dad-shaming to go around.
The Rock even got in on the action, though he made sure not to shame his pal Brady, he just weighed in with the comment that — if we're being honest — we're all thinking.
However, for as many dad-shaming comments as there were, there was an equal number of Brady fans who not only supported his decision to cliff dive with his daughter but even suggested that he saved her life. In the video, Viv is seen hesitating at the last minute and had Brady not yanked her off the cliff, this could have ended tragically.
"He saved his daughter from the rocks by pulling her further," wrote one fan.
"People need to settle down," wrote another. "I'm pretty sure he used his best judgment on if it was safe to do or not."
Or as this commenter put it: "Life is for livin & kids are only young once."
To be fair, it's not like Vivian is the first six-year-old to jump off a cliff on vacation. Just to see what the general consensus was on kids jumping off cliffs into bodies of water, I searched "six-year-old cliff jumping" on YouTube (first and last time I'm ever doing that, though) and apparently, it's not that radical an idea. Kids are safely jumping off cliffs like, all the time.
At the end of the day, Brady, Viv, and the rest of the family is safe and presumably enjoying their vacation. Carry on!
This article was originally published on