Tom Hanks Posts Update After Being Diagnosed With Coronavirus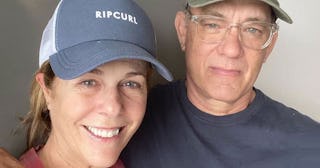 Tom Hanks/Instagram
Tom Hanks shares an update on Instagram after being diagnosed with coronavirus
Continuing his streak as being one of the most comforting and pure presences in the entire world who we must protect at all costs, Tom Hanks, infected with the novel coronavirus, took to Instagram last night with an update on his and wife Rita Wilson's condition (she also tested positive). Somehow, he made us feel better even though he and Wilson are the ones who are sick. Because he's Tom Hanks and that's what he does.
"Hello folks. @ritawilson and I want to thank everyone here Down Under who are taking such good care of us. We have Covid-19 and are in isolation so we do not spread it to anyone else," he writes alongside a photo of himself and Wilson, who are both smiling. Did anyone else read that to themselves in his voice, or just me?
"There are those for whom it could lead to a very serious illness. We are taking it one-day-at-a-time. There are things we can all do to get through this by following the advice of experts and taking care of ourselves and each other, no?" he says.
Like I said — the man is an angel and making us breathe a little easier even though he's the one currently under quarantine while being treated for a literal global pandemic. We don't deserve him but we're grateful nevertheless.
He closes out with a line that brought instant wetness to my eyes. "Remember, despite all the current events, there is no crying in baseball."
Hanks summons the powers of Jimmy Dugan in our time of need and we couldn't love him more for it.
Just two days ago, the actor took to Instagram with the pretty concerning news that he and Wilson had tested positive for COVID-19 while in Australia for pre-production for Baz Luhrmann's upcoming (as yet untitled) Elvis Presley film in which Tom is playing Presley's manager, Colonel Tom Parker. "We felt a bit tired, like we had colds, and some body aches. Rita had some chills that came and went. Slight fevers too. To play things right, as is needed in the world right now, we were tested for the Coronavirus, and were found to be positive," he shared.
Hanks explained that he and Wilson "tested, observed, and isolated for as long as public health and safety requires." It looks like that's exactly what's happening and his most recent update helps us all calm down a tiny bit. We will get through this together — by taking care of each other. Let's make Tom Hanks proud.