Tom Hanks Shares Health Update And Urges People To Stay Home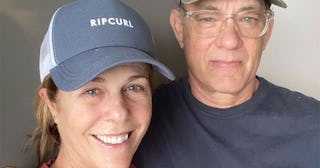 Tom Hanks/Instagram
Tom Hanks and wife Rita Wilson are on the mend, two weeks after testing positive for novel coronavirus
Since Tom Hanks first revealed that he and wife Rita Wilson had tested positive for the novel coronavirus, the celebrity power couple has become two of the world's most influential celebrity faces of the virus. First revealing they had been infected two weeks ago, they have been providing health status updates via social media, updating the world about how the potentially fatal illness has been impacting their lives. On Sunday, he revealed that both he and his wife are finally on the mend after two weeks of feeling ill.
"Hey, folks. Two weeks after our first symptoms and we feel better," Hanks wrote in a joint statement with his wife on Twitter. However, they didn't stop there. The couple used their star power and influence to urge their fans and followers to stay the hell home — clearly a message that many people still need to hear.
"Sheltering in place works like this: You don't give it to anyone — You don't get it from anyone. Common sense, no?" he wrote. "Going to take awhile, but if we take care of each other, help where we can, and give up some comforts… this, too, shall pass. We can figure this out."
On a less serious note, Wilson decided to share her own update on her Instagram account, in the form of a totally hilarious, 90s tribute. The 63-year-old rapped Naughty By Nature's hit song Hip Hop Hooray, and while we aren't exactly sure what inspired the amazing rendition, we are so appreciative.
First, she can be seen reading Orson Scott Card's Ender's Game when the song starts playing. And then…wait for it… she starts rapping along. She literally knows EVERY SINGLE WORD of the song, and doesn't quit until the song is over. Once the music fades out — she returns back to reading, nodding her head at the camera, and laughing at herself. "Quarantine Stir Crazy. See it to believe it," the actress captioned the video.
Other stars who have tested positive for coronavirus include Daniel Dae Kim, Colton Underwood, Idris Elba and his wife Sabrina Dhowre , and Debi Mazar, and all of them have shared a similar message. Whether you are feeling sick or not, stay home. The only way we are going to win the battle against the novel coronavirus is if we do it together — meaning every single one of us participate in social distancing.
Information about COVID-19 is rapidly changing, and Scary Mommy is committed to providing the most recent data in our coverage. With news being updated so frequently, some of the information in this story may have changed after publication. For this reason, we are encouraging readers to use online resources from local public health departments, the Centers for Disease Control, and the World Health Organization to remain as informed as possible.