Tom Hanks & Rita Wilson Aren't Getting The COVID Vaccine Anytime Soon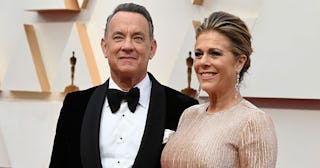 ROBYN BECK/AFP/Getty
Tom Hanks and Rita Wilson won't be rushing to get the COVID vaccine before others who need it, and it's truly refreshing
COVID-19 vaccine programs are continuing to roll out in the U.S. It's incredible to see healthcare workers, who have worked so hard to save lives during the pandemic, receiving the vaccine that will keep them safe. What's definitely less incredible is seeing the rich and famous angling for better positions in the vaccine line — despite CDC recommendations that healthcare workers and people in nursing homes should be first to get the shot, members of Congress have been getting theirs, including Republicans who denied the pandemic's existence or downplayed its seriousness. But you know who doesn't play like that? Tom Hanks and Rita Wilson.
Hanks appeared on the Today show this week, where he was asked about his thoughts on the vaccine and when he might get one for himself.
"We'll be getting it long after everybody who truly needs to get it," Hanks told host Savannah Guthrie. When asked if he'd eventually be willing to get the vaccine on camera, Hanks replied enthusiastically, "Yeah, sure!"
In case you don't remember because it happened all the way back in March (AKA 47 years ago), Hanks and his wife, Rita Wilson, were some of the first celebrities to announce that they'd been infected with COVID-19. They caught the virus while they were on a movie set in Australia.
"Yes, we had it, and it was a tough couple of 10 days, but I think [what] was much more important is the second half of the COVID-19 formula: We didn't give it to anybody," Hanks told Guthrie during his time on the Today show. "We wear masks, and we still do—not just so we don't catch it, but so that you don't give it to somebody in case you're one of those asymptomatic carriers."
Since recovering from the virus, Hanks has been a pretty vocal proponent of public health measures. He's really not holding back. "Are they Americans? I don't get it. It's the least you can do. It's literally the least you can do. A mask and wash your hands and try to stay six feet away from a person. Is this impossible now?" He's spoken about the importance of social distancing and wearing a mask, and taken to social media to shame people who don't wear masks in public places. Between all of that, and waiting to get vaccinated until it's truly his turn even though he probably has enough money and influence to jump the line, Hanks might just be the hero we truly need in 2020.
Now listen to his advice: Wear your mask, stay socially distanced, wash your hands, and get vaccinated when it's your turn.