Tom Hanks Recorded His Last Lines For 'Toy Story 4' And OMG, We're Not Ready
by Cassandra Stone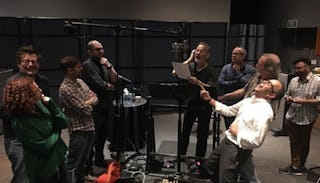 Image via Instagram/Tom Hanks
Tom Hanks is gonna make us all need to reach for a hanky with this Instagram post
While many of us aren't quite over the emotional destruction Toy Story 3 left on our hearts, it's time to prepare ourselves for Toy Story 4. Tom Hanks and Tim Allen just wrapped their final lines for the movie — which will likely be the last of the franchise, but who knows — and whew, it's about to get dusty in here.
Tom Hanks shared an image of his final recording session as Woody for Toy Story 4, and honestly — we're not ready to say goodbye to one of the most beloved characters of all time. AND THE MOVIE HASN'T EVEN COME OUT YET!
"Final line, final session as Woody of Toy Story 4," he writes in the caption. "We rode like the wind, to infinity and beyond. Hanx."
Tim Allen also shared that yesterday was his last day voicing the character of Buzz Lightyear, and honestly — it's all just too much.
"Finished my Buzz for Toy Story 4 today and it got emotional," Allen shares on Twitter. "We are all going to love this story…man it's got everything."
The much-anticipated Pixar sequel will hit theaters in June of this year. While the animation studio is notoriously tight-lipped about all of its projects, they did gift us with a teaser trailer right before the holidays.
According to Pixar's YouTube channel, the premise for the movie goes something like this:
"Woody has always been confident about his place in the world and that his priority is taking care of his kid, whether that's Andy or Bonnie. But when Bonnie adds a reluctant new toy called 'Forky' to her room, a road trip adventure alongside old and new friends will show Woody how big the world can be for a toy."
Bless "Forky," who can be heard screaming "I don't belong here! I'm not a toy!" in the trailer. Weird, that's how many of us feel every morning when we wake up.
Toy Story 4 will also see the resurgence of Bo Peep, Woody's beloved from the first two movies in the franchise, who was, sadly, absent from the third. Andy's little sister Molly may have grown up and out of nursery rhymes, but Woody still pines for his long lost love.
And though many of us thought the Toy Story story was over forever, I don't think anyone is complaining about this latest sequel. It's like, the only film franchise that keeps churning out hit sequels!
"Like most people, I assumed that Toy Story 3 was the end of the story. And it was the end of Woody's story with Andy," the film's director, Josh Cooley, tells E! News. "But just like in life, every ending is a new beginning. Woody now being in a new room, with new toys, and a new kid, was something we have never seen before. The questions of what that would be like became the beginning of an entertaining story worth exploring."
And while it wouldn't be unheard of to make even more sequels, the emotions bubbling up in Tom Hanks and Tim Allen's social media posts sure sound an awful lot like two actors who are saying goodbye to these beloved characters forever. Thank goodness we've got five months to emotionally prepare.
This article was originally published on