Man Faces His Congressman With Impassioned Plea For Health Care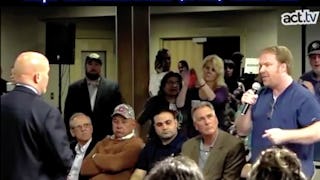 Image via Facebook
The husband and dad told Rep. Tom MacArthur what the new health care bill would mean for his family
Representative Tom MacArthur (R-NJ) held a town hall meeting this week for his constituents that basically amounted to five hours of being yelled at over his endorsement of "Trumpcare," the disastrous health care bill House republicans recently passed. One resident's impassioned speech stood out from the others and video of his stirring words has since gone viral.
With very good reason.
MacArthur is almost single-handedly responsible for reviving the unpopular bill and ensuring its narrow passage through the House. And boy, were his constituents pissed about it.
One man in particular, Geoff Ginter, a 47-year-old medical assistant from Pine Beach, let MacArthur have it during the third hour of the contentious meeting. According to The Daily Beast, Ginter's wife recently recovered from breast cancer and is concerned about it returning. He also has two kids with pre-existing conditions. Considering his family's circumstances, it's easy to understand why he was so fired up.
"You have been the single greatest threat to my family in the entire world. You are the reason I stay up at night," Ginter tells MacArthur. "You came after my wife," he says, as he goes on to explain that she was diagnosed with cancer at age 40 and though she's in recovery, she's constantly in fear of the worst.
"She beat it," he says, "but every day…every day she lives with it. She thinks about it. Every pain, every new something going on somewhere, is it coming back? Is this cancer? Do I have it again? Is it going to kill me this time? Is it going to take me away from my children? Speaking of which, my children both have pre-existing conditions from birth: one cardiac, one thyroid."
And now that the GOP is doing its best to kill Obamacare's protections for Americans with pre-existing conditions, Ginter's wife is rightly concerned about where their family would be if he suddenly lost his job. Ginter explains that right now, he has a good job with good health insurance, but if he lost his job tomorrow? His family would be without coverage until he got another one because they can't afford COBRA, and as he points out, it takes anywhere from three to six months for health benefits to kick in at a new job.
All of that doesn't even touch the fact that his wife and children could be denied coverage under the proposed bill or forced to pay astronomical amounts because of their pre-existing conditions.
Ginter admonishes MacArthur for siding with the GOP on the health care issue in the first place. "These are the people that came up with the plan that will kill millions of people." He doesn't let anyone off the hook including the president. "I work in health care, sir. It is complicated. The only one that doesn't believe it's complicated is an orange-haired buffoon sitting in the White House."
Preach.
At the end of his scathing takedown, Ginter told MacArthur not to even bother responding because he didn't want to hear it. The man is basically a hero.
The video of his speech is spreading like wildfire because Ginter is representative of so many millions of Americans concerned about the very real repercussions of the proposed health care bill. Heartless politicians like MacArthur either don't understand the needs of their constituency or simply don't care how their cruel policies effect real Americans like Ginter and his family.
Luckily, there are people willing to stand up and tell the truth. Let's hope MacArthur and his colleagues are listening.
This article was originally published on