'Tonight Show's' Female Writers Read Touching Thank You's To Hillary Clinton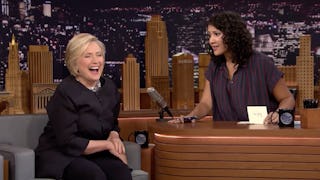 Image via Facebook/The Tonight Show Starring Jimmy Fallon
They tell Clinton what her candidacy meant to them
The effect Hillary Clinton's campaign had on women and girls is hard to understate. While she didn't win, she inspired many in ways we wish we could tell her. That's why we're thrilled the female writers for The Tonight Show Starring Jimmy Fallon put into words what plenty of us have wanted to say to Hillary since the election last fall.
And of course, along with plenty of tear-inducing gush, they brought the funny.
Last night's episode featured Clinton and also, Miley Cyrus, but we'll get to her in a minute. The clip shows the writers penning their own "thank you" notes to the former secretary of state, along with hilariously dramatic piano music provided by the show's band. You'll laugh, you'll cry, you'll wish to God she won the election.
The writers filed in one by one and took turns sitting at Fallon's host desk to "write" their note while Clinton sat and listened, sometimes smiling, sometimes looking like she might cry.
The first writer opened with, "Thank you Hillary Clinton, for being the first female presidential candidate nominated by a major party and also, the first female senator of New York, and also the first first lady to transcend first ladyhood to become secretary of state. Thank you Hillary Clinton, for being the Hillary Clinton of American politics."
Ugh, our hearts. This was a great one to open with, because regardless of politics, what Clinton accomplished for women is monumental. She shattered a number of glass ceilings, even though she didn't quite get to the ultimate glass smashing by becoming president. We're still insanely proud of all she's done, and this writer really summed it up.
The next woman thanked Clinton "for handling this difficult transition with more grace than I ever could've imagined." Then, she offered to bring "a gallon of ice cream and two spoons to tell you, 'girl you are so much better than him'."
Um, we would all do that, honestly. Call us, Hillary.
One writer jokingly thanked Clinton for her constant work in support of healthcare. She says, "Ever since the election I've really depended on my government subsidized anti-anxiety medication."
She's so not alone there.
Another thanked Clinton for her strength and poise during and after the election saying, "When dealing with a difficult defeat it's OK to take time to reflect, set your focus on a new path forward, and maybe find a cave in the woods to scream into."
If anyone deserves a good scream in the woods, it's Hillary Clinton.
The last few writers brought the jokes, with one telling Clinton, "You showed girls everywhere that politics isn't a popularity contest because if it were, you would've won by about 3 million votes." Oh snap.
The final writer thanked her for "standing up to critics who said a woman couldn't be president because they'd be too emotional, impulsive and unpredictable. so glad we didn't end up with someone like that!"
As we read Trump's unhinged tweets, we're all sadly nodding our heads.
The skit wrapped up with Cyrus spilling her gratitude to Clinton and ended with the two embracing. Hillary then wrote her own thank you note to women and girls saying, "You are smart, strong and deserving of every opportunity. Together we've made our voices heard, we've done great things and we've come a long time. But as Miley would say, we can't stop. And we won't stop."
Hell no, we won't.
This article was originally published on