Check Out These 10 Top-Rated Beauty Products On Amazon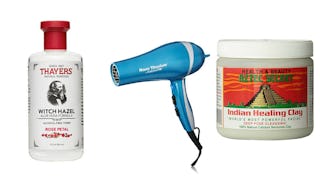 Amazon.com
There's no doubt Amazon is the holy grail of Internet shopping. You can get quite literally anything and everything you can possibly think of, and if you're smart, you have Amazon Prime, which means you could get your treasures in two days.
The thing about the treasure trove that is Amazon is that it is a mecca for those of us who are beauty enthusiasts. There are literally hundreds of pages full of products, and now, Amazon has a new service, where for a small fee, you can sample some beauty products before you buy the full size. What a time to be alive.
If you're anything like me, you scroll through pages and pages of reviews, trying to decide if a product is worth the purchase. Well, we've done the heavy lifting for you.
With over 11,000 positive reviews — including this one: "This stuff is literal magic mixed with unicorn tears…" – Amanda Young — this is definitely worth checking out. Because who doesn't want magic mixed with unicorn tears?
This product has almost 11,000 reviews, and dozens of uses. As this review points out: "Wonderful product! I use it as a facial astringent and also in my homemade yoga mat spray with essential oils! Great product will buy again!" – Sj773
These weird and wonderful little things have over 1,600 reviews, including this hilarious (and spot-on) review from an anonymous Amazon customer:
"Never has a foot care product taken me on such an emotional journey. Let's go through the phases and emotions I experienced using this product:
1. Shame. I was ashamed of the condition my feet were in. Too bad for a pedicure, nobody wants these feet in their face. 2. Curiosity: Hmmm…. does this ACTUALLY work? 3. Bravery: Yep, I'm gonna buy it. Let's do this…"
We'll let you check out the rest of the review yourself, but let's just say this review is so hilarious that you'll want to get the product just to see how accurate it is.
Look, if you can remember Britney Spears back in her schoolgirl outfit days, I hate to break it to you, but you could probably use a night cream.
"Mmmm! As soon as I applied this for the first time it felt so luxurious. I have been using a drugstore brand face cream for a year or so and I immediately noticed the difference in quality. I am someone that doesn't like to wash her face at night — I know, I'm bad! But having a nice quality facial cream that I know is going to help keep my skin looking young is a great motivator to get in my bathroom to get the job done!" – Jennifer Bowman
Himalayan pink salt is good for more than just lamps and cooking; it also makes this scrub with over 1,800 reviews.
"I made my husband use the Himalayan salt scrub on his lower back because it was hurting. He was skeptical but he's now a fan! He said it felt like sand was being rubbed on his back, then said "oh it's turning warm!" 30 minutes later I asked if he wanted to use some icy hot and he said no, his back wasn't hurting anymore! How awesome!" – Alayna Schmidt
You can't get high from it, but you can get smooth skin, so that'll work too, right?
"This has been my favorite beauty product find. After spending 5 years in Florida playing volleyball on the beach 4 days a week I had sun damage on my forehead even with using sunblock and spf 100. This lotion has done wonders for taking sun damage away. Also, I noticed my skin is softer than silk." –RavenPonytail
If you use any sort of heat on your hair (and let's face it, that's most of us,) you need a good heat protectant. But which one? Why not let others do the hard work of testing them out and then follow their lead. And this one seems to be worth following.
"Before I started using this product my hair would always seem dry and I would get split ends 2-3 weeks after getting my hair cut. Now that I use this daily on my hair before using any type of hot tools, I don't notice my ends breaking nearly as much and my hair feel's soft and looks great. A HUGE plus is that it smells FANTASTIC. Definitely will continue using." — Joyce
BaByliss is one of the best companies for hair tools, and this blow dryer has over 2,100 reviews. Seems like a dream for those ladies with thicker hair.
"Dries very fast without a lot of heat. I have extremely thick, coarse, horse type hair. Hairdressers tremble when I walk in. Lol! My old dryer would get very hot and dry the outside of my hair without penetrating to the hair underneath so it would take forever to get it all dry and I would be sweating afterwards. I hated doing my hair. This dryer penetrates all of the hair and gets it done in a fraction of the old time. A huge benefit is I don't get hot and sweaty either! I can't say enough. I never knew a hair dryer could make such a difference. Oh! and my hair isn't as frizzy either! Best beauty purchase I've ever made!" — James Bowen
Many of us would agree that the flat iron was one of the greatest hot tools ever invented.
"This straightener is great especially for the cost! It's light weight and has a cord that doesn't get tangled and is long enough so you have a lot of room to work. It heats up very quickly and just glides down you hair making it so easy. I have wavy, thick hair and it only takes me about 15 minutes to completely straighten my hair. It also comes with a glove to use, so you don't burn yourself when styling…" – Meghan G. Ramsey
This gorgeous brush set has 14 pieces and almost 2,000 reviews. BRB, buying one now!
"This brush set is amazing!! Especially for the price. They are soft, blend creams, liquids and powders wonderfully on the face. The eye blending brushes have quickly become my favorite and my normal go-tos. Will definitely be purchasing more soon." — Bianca M.
Now obviously, these are all buy at your own risk. Do your research and make sure the product is something you should be putting on your body. Ask questions if you must, and read the reviews. And then tell us what product you're loving on right now.
SaveSave
This article was originally published on