10 Top-Rated Mascaras That Will Treat You Right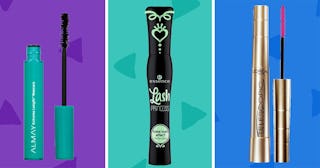 Amazon
We all want our lash game to be strong and we can get that lustrous look without lash extensions or serums claiming to make our lashes grow. All you need are some of these amazing, top-rated mascaras to get the job done.
We love this mascara— it had the perfect brush to get every single lash and gives you volume and length without the clumps.
Essence Lash Princess mascara is a bestseller for a reason. It's under $5, goes on like butter, extends your lashes before your eyes in one step, and is gluten and cruelty-free.
You applied this before prom — it treated you well then and it'll treat you right now. We all love a classic mascara like Maybelline Great Lash.
If you want serious volume, Lash Blast is a must-try. It plumes your lashes in a few swipes and you are ready to take on your day.
This pick is infused with collagen for healthy lashes and won't clump leaving you with spider lashes. Oh, and the gold and black packaging is kind of fab.
A mascara that defines and lengthens your lashes, yet washes off easily is a must. This one is the perfect pick that will get your through your day without smudging and will come off easily at night.
If you want an extra boost, a mascara with added fibers to lengthen and add volume is a perfect solution. This mascara will even grab those tiny lashes and gives them a boost.
Let's face it, most of us are looking for ways to save some time. This mascara goes on thick after one coat and let's you move on with your bust morning.
No one likes clumps around their precious eye balls and getting extra volume without clumping can be tricky. Enter this mascara. Just swipe and watch your lashes grow clump-free.
The tiny, curved brush in this tube of mascara makes all the difference. It allows you to get every lash, even those tiny ones at the corners of your eyes, and has a huge impact on your lashes.
There is absolutely no need to spend a ton of money on your lashes. These mascaras are affordable and glide on so smooth you be rocking those kick-ass lashes every day with little effort.
We may earn fees from purchases made via links on this page and affiliated sites. All opinions are our own.
This article was originally published on