Top Things to Do in El Paso With Kids
by Amanda Svachula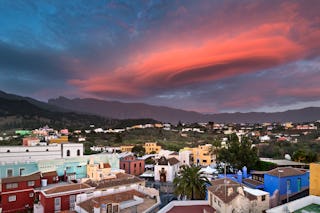 Dominic Dähncke/Getty Images
There are plenty of things to do in El Paso, Texas, with kids, including fun museums and outdoor attractions for children. If you are traveling there, here are some of the best family-friendly activities in El Paso.
Best Hotels in El Paso, Texas
There are many kid-friendly hotels to stay at in El Paso. The Wyndham El Paso is one of the most family-friendly hotel options. Everyone will love hanging out at the outdoor waterpark to cool off in the Texas heat.
The Hotel Indigo in downtown El Paso has a luxurious pool and a contemporary vibe, while the Doubletree by Hilton has a great terrace restaurant which serves brick-oven pizza and is close to nature in the area.
If you want an option convenient for travel, you can stay at the Hyatt Place El Paso Airport, which is even pet-friendly.
Kid-Friendly Attractions in El Paso, Texas
The El Paso Zoo is focused on education and conversation, and is considered one of the best places to take kids locally. The 35-acre space holds over 220 species of animals. Along with the animals, the zoo also has a splash pad, playground and carousel.
Need to blow off steam? Adventure Zone has mini golf, go karts and bumper boats.
For a fun indoor activity, try the El Paso Museum of Art, which periodically holds indoor activities for kids. Visit the El Paso Museum of History to give your family a learning experience about West Texas.
Do your kids like rocks? You can also take them to explore archeology at the El Paso Museum of Archeology, a multi-exhibit museum displaying remnants from Southwestern cultures.
Outdoor Activities in El Paso
There are plenty of things to do outside in El Paso, Texas with the kids. Western Playland is a fun amusement park, with rides for all ages. If your family is into sports, catch a game at the Sun Bowl Stadium.
Looking for a great spot to take family photos? Check out the El Paso Municipal Rose Garden. The kids will love roaming around the colorful flowers. Or go on an entertaining outing to Bob-O's Family Fun Center, which has laser tag and a huge arcade. The Mission Trail is a fun historical excursion to go on, and takes you through one of the oldest villages in the U.S.
The El Paso Centennial Museum, originally built to celebrate the anniversary of Texas' independence, has a beautiful botanical garden with desert plants.
Best Restaurants in El Paso
There are plenty of restaurants to check out in El Paso, Texas. The town has especially good Mexican food. Take your kids to Café Mayapan for complimentary chips and salsa, and to give back to the community.
Ripe Eatery has a great children's menu (even the kids can get a side of iced tea), along with a hip, laidback vibe. For a unique dining experience that will transport the family back to the past, you have to go to the Cattleman's Steakhouse at the Indian Cliffs Ranch, which touts a true Southwestern dining experience with antique wagons and other artifacts.
State Parks in El Paso, Texas
Discover all that nature has to offer at the state parks in El Paso. Franklin Mountains State Park has biking and climbing, along with gorgeous views.
Take your kids to Hueco Tanks State Park & Historic Site to see majestic rock hills. You can join a guided birding, hiking or rock climbing tour, or just walk around the area on your own.
MORE: Best Places to See in Houston With Your Family
Must-See Spots in Denver for Kids
Taking Your Toddler to Tucson: Top Things to Do
This article was originally published on