Top Things to Do in Glendale With Kids
by Amanda Svachula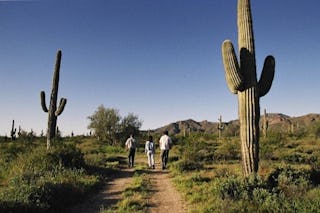 Maricopa County Parks
Visiting Glendale, Arizona — the charming, smaller counterpart to Phoenix? There are plenty of restaurants, attractions, activities and parks in the town that will impress your whole family. Here are a few things to do in Glendale with kids.
Kid-Friendly Attractions in Glendale
When you arrive, first walk around the bustling Westgate Entertainment District. The area has pretty water fountains, shopping and restaurants. It's a great introduction to Glendale, Arizona.
For a whimsical blast to the past, you should definitely check out the Arizona Doll & Toy Museum. Your kids will love seeing the wide-eyed dolls and their vintage outfits. Another great rainy activity is a visit to the Cerreta Candy Company. Its special guided tour is perfect for kids. They get to learn how the sweets at the company are made, and make their own chocolate pizza while they're at it.
Trying to burn off some energy? You should go to TopGolf. The Glendale location is brand new and offers a summer fun pass which gets you unlimited golf for the whole family before 5 p.m. on weekdays.
Family-Friendly Hotels in Glendale
There are great hotel options in Glendale, many with great pools for kids to cool off in the Arizona heat. The Hampton Inn & Suites Phoenix Glendale is in the Westgate Entertainment District (yes, that hip, bustling area we mentioned earlier).
Springhill Suites Phoenix Glendale/Peoria has a contemporary, no-frills vibe.
The Renaissance Phoenix Glendale Hotel & Spa is filled with Southwestern accents. It also has a ton of fun amenities – like table tennis and an indoor and outdoor pool.
Best Restaurants in Glendale for Kids
When in Glendale, you have to absolutely dine at the The Spicery in Our 1895 Home. Seemingly straight out of "Alice in Wonderland," the restaurant serves delicious quiche along with deserts – like cherry cheesecake and bread pudding – your family won't be able to get enough of. Get everyone dressed up in their finest to go to tea time.
It would not be the Southwest without excellent Mexican food, which you can find at Don Rubens Mexican Food. If you are the one craving tacos and your kids aren't feeling it, there is a selection of burgers and chicken tenders also on the menu.
Another option for dinner is the no-frills Mike & Ronda's The Place Restaurant. Similarly, Heroes Glendale offers American food in a laidback, sports bar environment.
Want more Mexican food? Popo's Fiesta Del Sol has mini quesadillas for kids.
Kid-Friendly Outdoor Activities in Glendale
You will want to pace yourself between indoor and outdoor activities, depending on how high temperatures are during your visit. A great outdoor attraction is Wildlife World Zoo, Aquarium & State Park. It has the largest selection of exotic animals in Arizona. Your kids can wander and observe the animals or go on one of the many rides including a carousel and the African Safari Train.
The Xeriscape Botanical Gardens have over 1,000 trees, shrubs, cacti and more, while the Sahuaro Ranch Park has orchards, gardens and other natural spaces. On the National Register of Historic Places, it features several historical buildings hinting at its past. Another historic outdoor option is the Manistee Ranch.
Best Parks in Glendale
There are a ton of gorgeous parks in and near Glendale, Arizona, most with stunning views of mountains and desert. You will want to bring plenty of water with you if you head to one of these areas. White Tank Mountain Regional Park is perhaps the most popular destination, a thirty-minute drive outside of Glendale. It has 30 miles of trails, a nature center and horseback riding.
Right in Glendale, Arizona, Thunderbird Conservation Park preserves the desert environment. Foothills Park has a really nice playground, along with ramadas if you want to have a picnic.
MORE: Things To Do in Seattle with Kids
Top Things to Do In El Paso With Kids
Top Things to Do in Tulsa With Kids
This article was originally published on