Top Things to Do in Saint Paul With Kids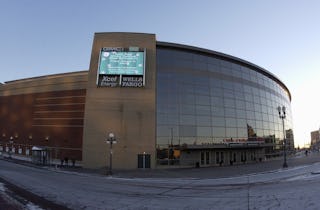 Elsa/Getty Images
Heading to Saint Paul, Minnesota? Saint Paul is the sister city to Minneapolis and not only a great vacation spot for adults, but for children as well. Here are a few of our favorite things to do in Saint Paul with kids.
Best Kid-Friendly Attractions in Saint Paul, MN
There are a ton of fun family-friendly activities in what is known as the most livable city in the country. First of all, you should visit the Como Park Zoo and Conservatory because your kids can feed giraffes at the giraffe feeding center and see different types of frogs up close.
Another trip that's worth it is to the Science Museum of Minnesota. It has a ton of interactive elements, like an exhibition about sports and a human body gallery. Similarly, the Minnesota History Center also has interactive exhibitions focused on the history of Minnesota.
Above all, if you have young kids, you should go to the Minnesota Children's Museum for the slide and the other fun spaces for toddlers.
If you feel up for the trip, head to the Mall of America in Bloomington, MN, and check out the Crayola Experience, where your kids can see where crayons are made.
Kid-Friendly Restaurants in Saint Paul
There are many food options in Saint Paul, most family-friendly.
Everyone in your family will find something to love at the city's selection of food halls. Cossetta Alimentari, an Italian marketplace in Saint Paul, is great for pizza. Likewise, Keg and Case is a food hall with many options.
Cook is a great place for a sit-down breakfast. Rival House Sporting Parlour has an upscale vibe along with board games, shuffle board and other activities.
Above all, you have to go to Chris & Rob's Chicago's Taste Authority, which serves Chicago-style hotdogs, along with burgers, fries and a pizza puff, in a charming train car.
Kid-Friendly Outdoor Attractions in Saint Paul
There are many fun outdoor attractions to visit with kids in Saint Paul. Minnesota. Lilydale Regional Park, which is covered by a floodplain forest, has a playground and biking and walking paths. You and the family might even catch a photo of a blue heron! Hidden Falls Regional Park is another beautiful park great for birding and fishing.
Furthermore, you'll definitely want to visit Indian Mounds Regional Park, home to six Native American burial grounds atop a 450 million-year-old limestone and sandstone bluffs. Hike to the top and catch a beautiful view of the river.
If you're around at the end of the summer, you absolutely have to try out the Minnesota State Fair. It's the largest state fair in the United States!
Best Family-Friendly Hotels in Saint Paul, MN
There are many conveniently located hotel options in Saint Paul. Hampton Inn and Suites in downtown Saint Paul is a brand new option, with a nice indoor pool. The Hyatt Place St. Paul has a contemporary vibe with free breakfast.
The InterContinental Saint Paul Riverfront has nice views of the river, if you're looking for a dose of scenery.
Best Lakes in Saint Paul
The Twin Cities are known for their stunning lakes. Lake Minnetonka is several miles south of both Saint Paul and Minneapolis, but is one of the most popular spots for visitors to enjoy outdoor activities.
Como Lake is a small lake perfect for kayaking. Lake Phalen is one of the largest lakes in Saint Paul, Minnesota. You can bring food to grill in its grill pit, or if you are visiting during winter, try its skating rink.
MORE: Things to Do in Dallas With Kids
Making Vancouver Your Family Vacation Destination
Best Spots to See in San Antonio With Family
This article was originally published on