Tori Amos: 'Having a Teenage Daughter Forces Me to Be Honest'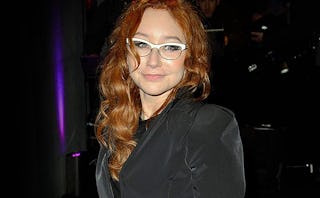 The album, which recounted her Christian upbringing, sexual awakening, and brutal rape at 21, impacted an entire generation of women.
On April 14, Rhino Records is reissuing Little Earthquakes and her second album, Under the Pink, as two-CD deluxe packages.
The redheaded singer, 51, talked to Salon about her music's ability to cross generations and how motherhood has changed her perspective.
"My mother would say, 'Until you're a mom, you won't understand love.' I'd roll my eyes when I heard that, but you and I know she's right," she said. "When [I wrote] 'Winter' I was imagining my father and my grandfather. Now the 'film' is watching my daughter with her dad. Both of the films live when I'm performing and hearing that 'Winter' now.
Amos and her husband, English sound engineer Mark Hawley, welcomed daughter Natashya (Tash) in 2000.
And much like Molly Ringwald, who recently spoke of the significance of showing The Breakfast Club to her 11-year-old daughter, Amos said that her daughter has her own unique interpretation of her work.
"I can't be the person I was when I wrote the [older] songs," she added. "For visual artists—like Lucian Freud—as they aged, their work was still valid because they were exploring different issues. As a woman getting older, having a teenage daughter forces me to be honest with where I am and what I'm experiencing. And Tash has her own take on my songs."
This article was originally published on