Torrid Launched A Wedding Shop For Plus-Size Brides And Everything Is Under $200
by Julie Scagell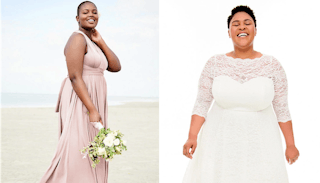 Image via Torrid
The line goes up to a size 30
A wedding is one of the most important, and remembered, days of your life life. It can be all-consuming trying to plan every single thing so you know the day will (hopefully) go off without a hitch. One of the biggest decisions for the bride, of course, is finding the perfect dress. Women's retail chain, Torrid, just made this a whole lot easier (and cheaper) by launching a new line of beautiful wedding dresses.
The Wedding Shop is an online experience for plus-size brides to shop for wedding dresses and pantsuits, bridesmaid dresses, and accessories. The best part? Everything is under $200 and they go up to a size 30.
If you've ever shopped for a wedding dress before, you know you can spend a small fortune on a gown you'll only wear once in a lifetime. But Torrid is turning that tradition on its head, giving consumers a bunch of options at a fair price, and one is more gorgeous than the next.
A Torrid representative told Bustle that the inspiration for this Wedding Shop line came from researching what consumers purchased the most from their other collections. "Torrid decided it was time to design a special collection specifically for her important day and for the events leading up to it," they said. And with more than 100 pieces to choose from, it would be almost impossible to not find something you (and your bridal party) will love.
The size-inclusive brand is calling this new line a "limited-edition capsule" aimed at showing its commitment to plus-size women. "This limited-edition capsule was made with love for curvy women who deserve to look and feel like the beautiful bride they are," their press release stated. "From traditional lace with detailing like covered buttons to simpler, contemporary silhouettes, the collection covers a range of choices to fit the brides' curves and personality."
There is an abundance of colors to choose from for bridesmaids and guests and for some dresses there's even an option of a convertible dress, meaning they can be worn five different ways. According to the site, they are designed for "versatility, without sacrificing comfort, so you can style it perfectly to fit your figure."
"We vow to help you craft a wedding experience that matches your vision — so that all those once-in-a-lifetime moments look and feel perfect," their site reads. "And of course, our dresses are designed to hug and fit every curve."
Finally, a brand that understands not all of us can afford an uber-expensive gown (or even want one) and allows for dozens of options for all shapes and sizes. The same goes for bridesmaids who also don't want to break the bank for a gown. Some of the bridesmaid's options come as a "buy one get one" at a discounted rate, so it seems Torrid really has all the bases covered.
Now all that's left to do is walk down the aisle — looking completely fabulous, of course.