Police Called To Deal With 'Disturbance' At Bank — A 92-Year-Old Man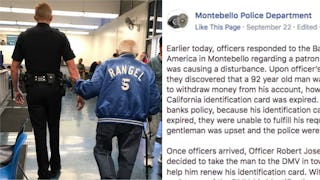 Image via Montebello Police Department / Facebook
Police could have arrested this man for the scene he was causing. Instead, they took him to the DMV.
When police in Montebello, California, were called to deal with a disturbance at a local Bank of America branch, they probably didn't expect the day to end with a heartwarming story going viral.
According to a post on their Facebook page, Montebello Police "responded to the Bank of America in Montebello regarding a patron who was causing a disturbance," in late September. They didn't expect what they saw when they arrived at the bank, though.
"Upon officer's arrival, they discovered that a 92 year old man was trying to withdraw money from his account; however, his California identification card was expired," the post continues. "Per the bank's policy, because his identification card was expired, they were unable to fulfill his request. The gentleman was upset and the police were called."
Calling the police on an upset 92-year-old man seems like overkill, TBH. But it turned out to be the right thing to do, because when officers arrived, they knew exactly how to handle the situation. The man could have been arrested for disorderly conduct. Instead, he got a helping hand.
"Once officers arrived, Officer Robert Josett decided to take the man to the DMV in town to help him renew his identification card," the post reads. "With the assistance of the DMV, his identification card was renewed and he was taken back to the bank at which time he was able to withdraw money from his account. He thanked Officer Josett and went on his way."
The department's photo of Officer Josett and the man has now been shared nearly 40,000 times on Facebook, and it's easy to see why. Nearly 20,000 comments laud the officers for responding with compassion and helping the man instead of just removing him from the bank or taking him into custody.
"Love it! We need more kindness in the world!!!"
" This Officer is a Saint! All this Little Grampa wants is to keep his Independence. And the officer helped him in a dignified manner. Good Job Officer!"
"Thank you officer Robert Josett!!! You stepped outside the box to resolve the issue. Great to hear the outstanding work done by the MPD."