Your Kid Is Cooking Fake Artisanal Food In A Toy Kitchen That's Fancier Than Yours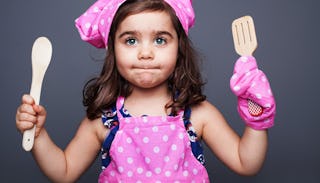 Thinking of buying a play kitchen for your kids? It's probably going to be nicer than yours. Hope you're okay with that!
The play kitchen has really evolved and so has the make-believe food in it. Gone are the days of a fake pizza and a miniature carton of milk: your kid is a foodie now. And his mini-plastic appliances are amazing. The Wall Street Journal reports that "sparked by an interest among children in foodie culture and the popularity of reality TV cooking shows, manufactures say they have updated their food toys."
That's an understatement. Let's look at your child's new kitchen, shall we?
Stainless steel appliances. Glass, minimalist mosaic tiling. Is that a white soapstone countertop? Precisely how hard would it be for me to get water and electric functioning in one of these exquisite kitchens? Because I no longer want to cook in the dump that is my kitchen.
The appliances are to die for, too.
Image via hapetoys.com
I just operated a Keurig for the first time last month. Thankfully, my child won't be in store for a similar fate. He'll have his gourmet coffee-making skills down pat before he goes to kindergarten. Phew!
Image via hapetoys.com
My kid might own a Cuisinart before I do. It's true what they say: all you can ask for as a parent is to give your child a better life than you had.
I actually had to go take a break and go make myself a sandwich before I finished writing this, because looking at this amazing fake food was making me hungry. Sadly, I'm not kidding.
Pita pockets! Crepes! Chocolate fondue! We're raising the next generation of foodies, and it's pretty great – no matter how obnoxious that sounds. And who knows? Playing with a more interesting variety of foods may make them a little more open to trying new foods, too.
At least one can dream…
This article was originally published on