There's A 'Toy Story 4' Gingerbread House And Your Kids Are Going To Flip
by Julie Scagell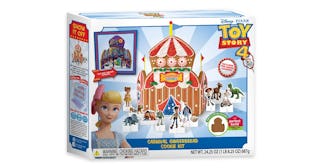 Walmart
If you love 'Toy Story 4′ you'll love these gingerbread houses
If you have kids of a certain age (or you're a big kid at heart), you've probably already seen Toy Story 4 at least once already. The film came out earlier this year with all our old favorite characters and some new ones we fell equally in love with (looking at you, Forky). Thanks to Walmart, now we can continue on with the fun with this Toy Story 4 gingerbread house kit.
Gingerbread houses are a staple of the holidays. They're fun to decorate if you can keep your kids from putting the candy that's meant to go on the house into their mouths, and you have a large glass of wine nearby because OMG, stop touching the walls they haven't dried yet. But now we don't have to settle for the same old, same old — we can decorate with Woody, Buzz, Forky, Bo Peep, Mr. and Mrs. Potato Head, and the rest of the Toy Story 4 characters.
Inside the box are blue and holly sprinkles, snowflakes, and a package of peppermints along, with enough icing to require an immediate bath for all involved following the building process. There is also a bunch of non-edible decor like cardboard flags, the carnival tent where (spoiler) Woody declares his love to Bo Peep, and an arcade backdrop from the game stand part of the movie that you can put inside the carnival tent.
What's even more of a bonus is with the carnival tent sides, you really only have to construct half a house which doubles your chances of the entire thing actually staying together for 10 whole minutes. Of course, there are all the cut-outs of the characters, too, so the kids can play house and then have it for a snack when they get bored.
Manufacturers have figured out how much families love building gingerbread houses, making kits that give us all the necessary ingredients. Oreo recently got in on the action, creating an entire house made out of Oreo cookies and cream, because you can never have too many Oreos. If you're like me and have zero patience for any of this, you could also hop on a plane to Disney and pick yourself up a pair of gingerbread ears and call it a day.
You can find these adorable kits at Walmart, and the best part? They are selling both online and in stores for under $15. If you just can't commit to an entire house this year, Walmart has you covered there, too. They are also selling the cutest Sesame Street Gingerbread Cookie Kit that kids can decorate with fun icing colors for just under $14.
Either way, you can't go wrong. Your kids will thank you and it will keep them busy for at least 15 minutes. It sounds like a win-win to us.
This article was originally published on