This Friday Is The Last Day Toys 'R' Us Will Be Open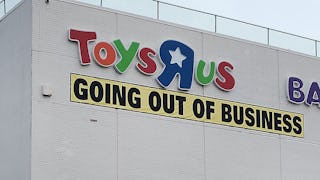 Image via Spencer Platt/Getty Images
Be a Toys 'R' Us kid before Friday, because all stores are closing this week
It's been a long, slow decline for Toys 'R' Us, the American chain of toy stores that announced its bankruptcy all the way back in fall of last year. Now, the end is near. All Toys 'R' Us stores that are still open will close by this Friday.
Months after entering bankruptcy, the former toy store giant announced in March that a $3.1 billion loan hadn't turned the business around. Attempts to restructure its debt weren't successful, and no one stepped up to buy the struggling chain, so toy store fans and '90s kids' worst fears were realized: Toys 'R' Us announced it would liquidate all of its merchandise and close all of its U.S. stores.
Since then, there have been pretty massive sales at all its U.S. locations, and if you haven't taken advantage of them yet, this is officially your last chance. Sales do vary by location, but USA Today reports markdowns are ranging from 60 to 90 percent. Even though Toys 'R' Us' last official day in business is Friday, stores may close earlier — some will close their doors for good as early as Tuesday.
Those who have been paying attention to the store's decline will have noticed that Toys 'R' Us' website stopped operating a few months ago, so there are no more online sales. You'll have to hurry to a brick-and-mortar location if you want to score some last-minute deals.
The official end means around 31,000 people will be laid off. And while the bankruptcy and subsequent closing were limited to U.S. stores, this hasn't been good news for international branches, either. Fortune reports that U.K. stores are struggling, while Australia stores are also going t0 close. The only good news for the brand lately comes from Asia, where bids came in at more than $1 billion to take over the name and operation. So while this is a sad week for U.S. Toy 'R' Us lovers, there's a little solace in knowing Toys 'R' Us is still thriving somewhere.