Toys 'R' Us Is Reportedly Preparing To Close All Its U.S. Stores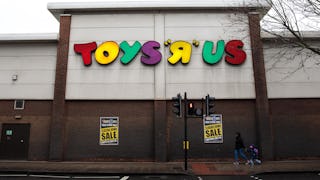 Image via Jack Taylor/Getty Images
Toys 'R' Us is considering liquidating their U.S. stores
In news that will strike sadness in every '80s and '90s kids' heart, Toys 'R' Us is reportedly planning to close all its stores in the U.S.
Last September, the big box chain filed for bankruptcy in hopes of reorganizing $5 billion in debt along with plans to revamp stores. But according to The Wall Street Journal, a dismal holiday season has the company looking to shutter its doors completely. They announced the closure of 184 stores last month, and is now reevaluating bids to liquidate the rest of its U.S. locations.
It's important to note that the closure is not definite yet — the company is expected to appear at a bankruptcy hearing in Richmond, Virginia on Monday. Closing their stores is one option under consideration while some lenders are pushing for other avenues.
The WSJ reports that toy manufacturers are "anxious" over the idea of losing TRU stores to hawk their wares, because as any parent who spends birthdays and the holiday season trying to track down specific toys knows, the retailer carries a far wider selection of certain items than stores like Walmart or Target.
The retailer has struggled amid the rising popularity of online shopping (*cough* Amazon *cough*) and it's kind of hard to see them recovering knowing how popular 2-day shipping and shopping without pants on has become. For my part, I only made two physical trips to stores to buy my kids' Christmas gifts last year because I bought almost everything online. With cheap or free shipping and pretty much everything available at the touch of a screen, it's getting easier and easier to never have to People in order to buy what you need.
But still — losing this retail mainstay will be pretty sad for those of us who grew up knowing what it was like to hear your parents say "and if you're good, we'll stop at Toys 'R' Us." Our kids won't know that special feeling of wandering the aisles of the biggest toy store in town and no matter how wildly convenient online shopping is, that's an experience in a class by itself.
At least we'll always have the memories.
This article was originally published on