Our Top 10 Toy Suggestions For Toddler Birthdays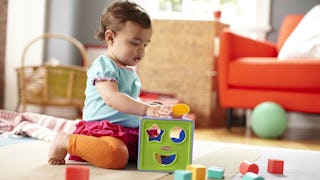 Playskool / Amazon
Buying for kids who are leaving babyhood behind can be tricky. They are learning to play with toys outside of just throwing and shaking them and shoving them in their mouths, but their play skills aren't exactly sophisticated yet.
You also don't want to add to the pile of plastic that will be collecting dust in the corner of the playroom for the next six years.
Some of the most important things to keep in mind when shopping for toddler toys is to stay away from anything with small parts or sharp edges. Because toddlers.
Toddlers love to move, make noise, sort things, stack them, and knock them down. If you can check any of those off when picking out a toy, you've likely got a winner on your hands. But if you need a little more guidance, we're here to help.
Your brand-new toddlers will enjoy dumping the shapes out of this and tossing them back into the open side. As they get older, they'll start recognizing the different shapes and figuring out how they fit in their corresponding holes.
This is a longtime favorite in my house, and it grows with your child. Each egg has a shell top that comes off. The bottom of each shell has a shape that nests it into a hole in the carton. The color of the shell's face matches the inside of the egg. Young toddlers will love taking the eggs apart and pushing on their colored centers to make them squeak. Older toddlers will start matching the faces as well as sorting the shaped bottoms.
These blocks are a quadruple threat. You've got your sorting, your stacking, your knocking down. And of course, they make noise. A great set of blocks for a beginning builder.
You can't go wrong with stacking and nesting cups. They are portable, don't take up much space, and your toddler can use them a couple different ways.
Whether they're still learning to walk or are seasoned pros, push toys are great for providing extra stability and a little exercise.
Spend bath time developing fine motor skills and hand-eye coordination. Toss the bugs in the tub, and let your little try to scoop them up with the net. (This is another favorite in our house.)
If I was going to add an extra thing that toddlers love to do in the list above, it would be hitting things. They can use the hammer to whack the colored pegs down, developing that trusty hand-eye coordination again. And when one peg gets smacked down, another pops back up!
Fill the plastic pages with pictures of family, friends, and pets, then let your toddler chew on their faces. Or maybe sit down with them and teach them the names of their cousins or something. Dealer's choice.
My kids love these cars. They've got a serious pull-back mechanism and go zooming forward as soon as they let go. Plus, they're soft enough not to do any damage when they bang into walls — or your foot.
A great ride-on toy that allows for a full-range of movement. The wheels aren't fixed, so your toddler won't need to master a three-point turn. Plus, they are adorable and a guaranteed hit.
If you're wondering where all the musical instruments are, like a drum or tambourine or xylophone, I'll tell you where they are: In my closet and waiting to be gifted to children with parents I don't like. Be kind when you shop. And get ready to be some toddler's favorite adult.
This post contains affiliate links, which means we receive a small portion of the sale if you make a purchase using these links.
This article was originally published on