Tracee Ellis Ross Wrote A 'Children's Book' To Explain Harassment To Men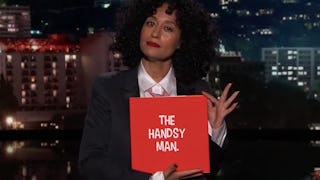 Image via YouTube/Jimmy Kimmel Live
Ross shares a book she wrote to enlighten men about unacceptable behaviors
In the wake of numerous sexual assault and harassment allegations hitting the news after the #metoo movement took hold, some men are wondering — how do I not be a groping, harassing, douchebag? Looks like it's not so easy for them to figure out, so actress Tracee Ellis Ross wrote a book to help these poor fellas so they know what's never acceptable behavior.
Ross was in the hosting seat last night on Jimmy Kimmel Live while Kimmel takes time off to be with his son after heart surgery. The black-ish star told the audience she wanted to address the recent outpouring of stories from women and men about sexual misconduct at the hands of powerful men.
"Let's start with the fact it isn't a sex scandal. It isn't a Hollywood scandal. It isn't even a scandal. It is a systemic problem, about the abuse of power that takes place across all industries, and had enabled a culture of inequity to persist for far too long," she said.
"While I'm not totally surprised by these stories, it seems like quite a few men are. Treating another human being with respect isn't complicated, but it seems a bit confusing for a lot of men out there, so I wrote a book."
She says, "It's kind of like a children's book for men that is going to make it really simple and bring it back to the basics."
Like, very basic. Things that even most kindergarteners understand. But in case men still don't get it, Ross has presented them with the tale of The Handsy Man.
Since the Weinstein allegations broke and stories of abuse by several other men followed, it seems like regular dudes are a little lost on how they should act around women.
Like, can I touch them without asking? Can I call them sexy nicknames? Can I show them my penis? Ross is only too happy to educate, and the answer, every time, is NO.
No touching. It's so simple. If it's something you wouldn't do to the sex you're not attracted to, don't do it. If you wouldn't grab a man's crotch without permission, don't grab a woman's. This shouldn't even need to be said, yet, here we are.
Ross is very specific and has peppered her story with several examples of things men shouldn't do to women without asking. And my God, what is with the back massages? No. Go away. I rebuke thee.
We enjoy her use of Green Eggs and Ham-style sing-songy verse here. If only the subject matter weren't so horrifyingly real for women.
In conclusion, it's pretty easy to tell when it's acceptable to be sexual with a woman in any way.
Ross ended her book reading to thunderous applause and quipped, "Just so you know, that is part one of a 67-part series."
Sadly, that would still only scratch the surface.