Tracey Ullman Nails The Absurdity Of Victim-Blaming In Genius Sketch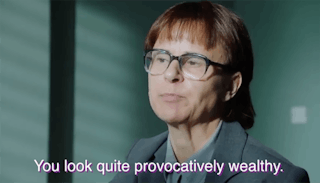 Ullman uses humor to show absurdity women face when reporting sexual assault
Sometimes the easiest way to prove a double standard exists is to demonstrate its absurdity through humor.
Comedian and actress Tracey Ullman decided to highlight the double standard many women face when reporting sexual assault in a unique way during an episode of her BBC One show, Tracy Ullman's Show. The episode is called, "Mugged," and the caption for it says, "Guys, is dressing provocatively in expensive suits whilst having too much to drink causing you to get mugged?"
In the skit, she took the victim blaming that often accompanies reporting such crimes and takes aim at the ludicrous way women are treated by police and in the media. The video starts when a well-dressed man talks about being mugged, stating he was held at knife-point by a man demanding his phone and watch. Ullman questions his choice of clothing. When he looks confused, she says, "You look quite provocatively wealthy."
Ullman continues her absurd line of questioning and brings in a counselor when the victim gets agitated. "You didn't even scream?" the counselor asks. When he responds that the mugger had a knife she cuts him off and says, "See how is somebody supposed to know you don't enjoy handing over your possessions unless you make your intentions clear?"
The reality is no joke. One out of every six American women is sexually assaulted in her lifetime (this includes rape, but also attempted rape and non-consensual sexual contact), according to the Rape, Abuse, & Incest National Network. Rape is the most under-reported crime with 63 percent of sexual assaults going unreported to police.
Why women don't come forward after a sexual assault or rape is a question as long and complex as the stories themselves. Vox correspondent Elizabeth Plank initiated a #WhyWomenDontReport campaign on Twitter in October and the responses from women were eye-opening. Many feel if there aren't bystanders or witnesses to the event, no one will believe them. Even if the assaulters are brought to trial, the results in many cases are almost as horrific as the crime itself.
"I'm afraid you are going to have to accept some of the responsibility for this," Ullman continues in the video. An outcome familiar to many women who have tried to report sexual assault and been told their outfit, alcohol consumption, or sexual history somehow invited her body to be touched without her consent.
This article was originally published on