Your Kids Can Call And Find Out Exactly Where Santa Is On Christmas Eve
by Jerriann Sullivan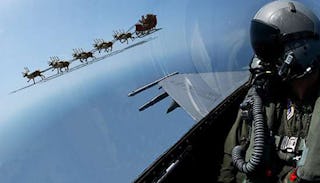 Image via Twitter/NORAD
Your kids can track Santa's journey online or call for live updates
We're just days away from our kids anxiously staring out the window, hoping to get a glimpse of Santa. Instead of watching them hopelessly stare into the night sky, we can help them "track" Santa's whereabouts online thanks to the North American Aerospace Defense Command.
RELATED: Ho, Ho, Ho! 8 Ways To Call And Text Santa Claus This Holiday Season
NORAD has a dedicated website, so our kids can pop in and check on St. Nick. Just go to noradsanta.org at 2:01 a.m. E.S.T. on December 24 and you'll see Santa's exact location. Last year the website had 22 million unique visits. Kids can also track Santa on iPhone, Android, and Windows apps. The team will also be posting updates to Twitter, Facebook, and Instagram for the kids who'd like to follow Santa's journey on social media.
If your young ones get anxious watching St. Nick online they can also call NORAD's Peterson Air Force Base HQ in Colorado starting at 6 a.m. E.S.T. and talk to one of the hundreds of volunteers. Call 1-877-Hi-NORAD (1-877-446-6723) or email the team at noradtrackssanta@outlook.com.
The tracking Santa tradition started in 1955 when an ad for Sears Roebuck & Co. misprinted the number for kids to call. According to NORAD: "The phone number put kids through to the CONAD Commander-in-Chief's operations hotline. The Director of Operations at the time, Colonel Harry Shoup, had his staff check the radar for indications of Santa making his way south from the North Pole."
A few years later, NORAD took over the responsibilities of tracking Santa. And every year since then the men, women, family, and friends of the organization have volunteered their time to track the Christmas icon for children around the world. "This is possible thanks to a tremendous number of military and community contributors," NORAD spokesman Preston Schlachter told the Colorado Springs Gazette. "There's a huge team that makes this happen."
In 2016, more than 1400 hotline volunteers answered a record 154,192 calls (1.8 calls per second) to the NORAD Tracks Santa 1-877 HI-NORAD hotline. And while kids love the Santa Claus tracking, the folks at NORAD make sure to help parents out a bit, too. All kids are told, "He's only going to come to your house if you are in bed and asleep."
This article was originally published on