Trademarking Your Kid's Name Is A Thing, And The Kardashian/Jenners Are Doing It
by Rita Templeton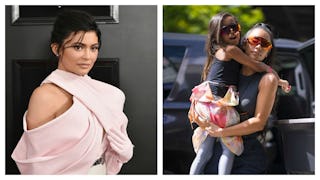 David Crotty/Getty Images Gotham/Getty Images
It's safe to say that the Kardashian/Jenners are business juggernauts, and now they're helping to secure mogul status for the next generation of their family. TMZ reported that according to court documents, Kim and Khloe Kardashian and Kylie Jenner have filed paperwork to trademark the names of their kids — hinting at future clothing lines, skin care products, and toys.
Kylie also reportedly filed to trademark "Stormiworld," which is a nod to her daughter Stormi's dad Travis Scott's latest album, ASTROWORLD.
(Also the theme of her over-the-top first birthday party, where guests literally entered through a blow-up version of Stormi's face.)
Not even kidding, see for yourself.
https://www.instagram.com/p/Btt6OKyHPk5/
Anyway. Their offspring — Kim's children, North, Saint, Chicago, and Psalm, Khloe's daughter True, and Kylie's little Stormi — were born in the spotlight, and entered a family dynasty built on publicity, product lines, and business deals.
Kylie Cosmetics, for example, is on track to make 21-year-old Kylie a billionaire (when I was 21, I was living on ramen noodles and had an orange-and-brown plaid thrift store couch in my apartment, but I digress).
It's only natural that the Kar-Jenners expect their progeny to continue the trend — and continue to set them. So their move to trademark their children's names is first and foremost a business decision that will allow their kids' names to someday be their brand names as well.
They aren't the first celebrities to do this; Jay-Z and Beyoncé have filed to trademark the names of all three of their children: Blue Ivy, Rumi, and Sir.
It isn't always an easy endeavor. Blue Ivy's trademark was the subject of a battle between Queen Bey and an event planning company by the same name, and even Kylie herself tried in 2015 to trademark her own name, but was struck down in court by Kylie Minogue.
Still, it's a thing. It's legal to trademark your name if it's used for business purposes — in other words, if your name is your brand.
Personal names fall under the category of "descriptive" marks, which means that you can trademark it … if it's deemed to have "secondary meaning," which means that when people hear it, it's automatically associated with your goods or services (for example, Calvin Klein or Tiffany & Co).
First, you'd need to search the United States Patent and Trademark Office's database for pending applications and existing trademarks of the same name. This would give you an idea of any roadblocks you may run into.
Then you'd have to fork over a couple hundo and file the application (the Kardashian/Jenners are currently in this stage).
Once the USTPO received your app, their attorneys would review it. If it passed that step without issue, they'd publish your intended trademark in their weekly online "Official Gazette," where the general public would have a chance to oppose it.
Besides these initial hurdles, there are other factors that play into the USTPO's decision whether or not to grant people this kind of trademark. How uncommon the name is (i.e., is it likely to be confused with another trademark?) and whether there's a significant meaning other than the name ("West" is not just a surname, but a word) are a couple of the things taken into consideration.
But if you've had your heart set on naming your baby Stormi or True, don't go back to the drawing board just yet; it doesn't mean the Kar-Jenners will have exclusive rights to these names. You can still name your baby anything you damn well please — just look at all the Mercedes and Chanels out there. This just means that they can't grow up and market a similar product or service under that name. Little Chanel can grow up and open a "Chanel Insurance Agency" or a pop-up shop called "Cupcakes by Chanel," but not a store named Chanel that has anything to do with fashion or cosmetics.
It can take a long time to register a trademark, especially if there's conflict or opposition. But if the Kardashians and Jenners are successful in their registrations, their kids will be successful in their own business ventures … at least the ones with their names on them.
Looking for a baby name that your little legend can turn into a brand? Check out the Scary Mommy Baby Name Database!
This article was originally published on