This Is Not A Drill: Trading Spaces Is Coming Back To TLC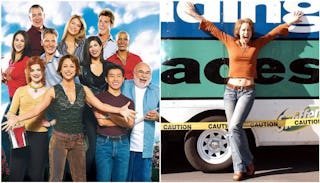 Images via Instagram.
Our DIY reality TV dreams are coming true
The best show to ever grace the TLC airwaves is coming back. That's right, home design nerds, Trading Spaces will returning to our lives so start harassing your neighbor Sheila about making an entry video now.
The show that started the home makeover business empire is finally being revived. Pinterest addicts everywhere just squealed. "This is a big one," said TLC president and general manager Nancy Daniels, according to the A.V. Club. "I am excited to announce that TLC's most successful and most iconic series . . . Trading Spaces is coming back." Even after binge watching an endless amount of home design shows, Trading Spaces remained our favorite.
Daniels told folks that new episodes will premiere next year, but didn't offer up any more details. Boo. We need to know: will Paige Davis be hosting? Does she still have that iconic spiky pixie hair? "All I know is fans are constantly bringing up to me how much they miss the show…so with TLC bringing it back, there will for sure be a lot of happy viewers out there," Davis told E! News. What about Geneveive Gorder? She did go on to create my second favorite design show, Dear Genevieve, but surely that superstar of a mom can juggle a few shows at once.
And of course, who could forget shirtless wonder, Ty Pennington. He's currently on the Food Network's American Diner Revival show, where he surprises diner owners with makeovers. The original Trading Spaces aired from 2000 to 2008 and highlighted some really terrible design ideas that were perfect for reality TV including hot glued hay to a wall and a floor covered in beach sand. The real twist, though, was that your neighbor had complete control of the new design your house received. Better like every photo Susan down the block posts on Facebook, people. You don't want her telling the designers you love paper mache bats.
Now that everyone and their husband watches hours of home design TV and fights strangers in Homegoods for the perfect coffee table accessory, the show might need a bit of an upgrade. We wonder if the families will get more cash this time around, too. Previously each household had $1,000 to work with, which is honestly plenty for some minor upgrades. Regardless of what the reboot looks like, we'll have the wine chilled and Pinterest fired up – just in case one of the designs is truly fabulous.