Six Trans Candidates Won Their Elections Last Night
by Christina Marfice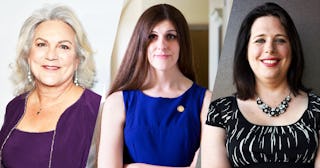 Bryan Bedder/ The Washington Post/Getty and Aime Wichtendahl/Facebook
After last night's election, trans representation in government is at an all-time high
Last night's election was a historic time for our country and LGBTQ+ representation. Six races were won by out trans people, bringing the number of openly transgender people serving in elected positions in government to 23 across the country. There's still work to do to increase that representation, but six wins in one night is a huge and historic step forward.
This is especially encouraging, since many of these trans candidates' opponents campaigned on anti-trans platforms. Attacking the human rights of their opponents and, undoubtedly, some of their constituents didn't help them, and the election results show that pretty clearly.
Here are last night's winners.
Virginia Delegate Danica Roem was reelected to another term after being the first out trans person to win a seat and serve in a state legislature. Roem worked hard in her last term to expand Medicaid coverage for her constituents, and in addition to being reelected, she saw voters approve her Medicaid expansion initiative. This was after her opponent tried to make LGBTQ+ and particularly trans healthcare an election issue, so victory in this case is especially sweet.
Holly Ryan made history in Massachusetts as the first out trans person ever elected to serve on the Newton City Council.
Donna Price was elected to the Albemarle County, Virginia, Board of Supervisors — also the first out trans person ever elected to serve on that body. Truly, last night's election made history.
And then there are a handful of trans politicians who won reelection to the seats they already held.
Hiawatha, Iowa, City Councilmember Aime Wichtendahl was the first openly transgender person ever elected to any political body in the entire state of Iowa, and she was just elected for another term.
Melrose, Massachusetts, School Committee member Lizbeth Deselm was also reelected for a second term in the seat she already held.
And Gerri Cannon, who also serves as a New Hampshire state Representative, was reelected to the school board in her home town of Somersworth, too.
"While bigoted political operatives are planning to use trans people as a wedge issue for 2020, voters across the country are rejecting the scare tactics and electing trans people to represent them in office," Mayor Annise Parker, President & CEO of LGBTQ Victory Fund, said in a press release. "Nothing disrupts their hateful narrative more than out trans elected officials working hard on behalf of their constituents. The success of trans candidates this Election Night – in states red and blue – is a warning to those using cynical campaign tactics to divide communities for their own political gain."
Parker continued, "Trans candidates are resonating with voters because of their authenticity and their focus on the core concerns of constituents. That will continue in 2020, when an unprecedented number of trans candidates are expected to run for and win elected office."
If that's the case, then bring on 2020. The more representation, the better, and we're ready for it.