Trans And Nonbinary Communities Respond To Trump Policy With #WontBeErased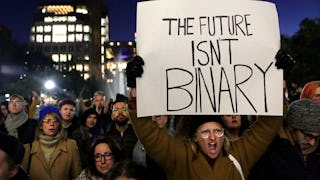 Image via Yana Paskova/Getty Images
Trans and nonbinary people and their allies are fighting back against Trump's erasure
After news broke that Donald Trump's administration is trying to limit federal civil rights protections by defining gender as only male or female, determined by a person's biological sex, the trans and nonbinary communities are fighting back. The hashtag #WontBeErased in trending in light of the news, while people affected by this ridiculous policy and their allies explain why this will erase civil rights protections for millions of people.
People are calling out Trump's hypocrisy and railing against the proposed policy, which was exposed in a leaked memo.
The memo revealed that the Trump administration's Department of Health and Human Services is already attempting to revise the definition of gender under Title IX, the federal civil rights law that bans gender discrimination in all federally funded programs, including those that provide housing support and job placement.
According to the New York Times, the memo revealed the Trump administration wants an "explicit and uniform definition" of gender based on "biology." It would also define gender as "unchangeable," effectively removing Title IX protections for all trans people.
"Sex means a person's status as male or female based on immutable biological traits identifiable by or before birth," the memo reads. "The sex listed on a person's birth certificate, as originally issued, shall constitute definitive proof of a person's sex unless rebutted by reliable genetic evidence."
Yeah, no wonder people are fighting back about this. It is insane. It is terrifying. Genetic testing? Is this real life?
Individuals and organizations alike have tweeted their thoughts on the policy, which is disastrous, short-sighted and inhumane.
Alongside the social media backlash, there are protests being planned nationwide this week. A rally was held in New York City last night, and protesters are gathered outside the White House today.
Will the Trump administration see these displays and reverse course? Probably not — recent history shows us that much. But that only means the fight is just beginning, and all of us who care about the trans and nonbinary people in our lives need to be ready to step up.