Teens Surprise Trans Classmate With Money To Legally Change His Name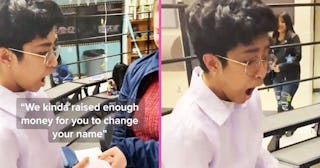 fluffiestboy/TikTok
Trans teen's friends surprise him with money to legally change his name on 18th birthday
A bunch of hero students at Grand Prairie Fine Arts Academy in Texas just surprised their transgender pal on his birthday by giving him enough money to legally change his name after his transition. Legally changing your name in Texas involves petitioning the court, going to a hearing (if granted), and paying a $350 filing fee and whatever miscellaneous fees are tacked on to change driver's licenses and etc. That's a lot of money and legal loopholes for an 18-year-old kid. So when 18-year-old Andrew showed up to school on his birthday, his lovely friends took it upon themselves to get the cash he needed to pursue a legal name change.
Andrew shared the video on his TikTok, which has since gone viral elsewhere, showing him walking into a class where a group of friends waited to yell "Surprise." At first, Andrew just thought it was a surprise party and he, us, and everyone on Twitter got emotional just watching a bunch of nice kids celebrating someone's birthday. Then, it was game over for everyone's tear ducts when Andrew's friend pulled out the big guns and presented him with the legal fund.
RELATED: How To Make Money In College: 25 Ways Not To Be A Broke Undergrad
"Since you're a legal adult, we raised enough money for you to change your name," Andrew's friend says as she gives him an envelope of money alongside a certificate. Andrew then drops to the floor, sobbing.
"They've been planning it for a month and I'm surprised none of them slipped up or even hinted at it happening," Andrew told PinkNews. "All my teachers and fellow students have been so supportive of me ever since I came out," he added.
Fans on Twitter were equally overwhelmed by the heartwarming show of solidarity.
https://twitter.com/jetpack/status/1225967088696729600
Once Andrew heard that his video had gone viral on both TikTok and Twitter, he made a Twitter account just to thank everyone for their kind words and praise for the video.
"Y'all are awesome, thank you so much for everything," Andrew tweeted.
Scattered throughout the sweet tweets praising Andrew's friends were typical hateful comments and other blatantly transphobic comments disguised as faux naivety like "why did she want to change her name." Typically, Twitter is a cesspool of negativity, so to see a group of young people rally around their trans friend and literally give him resources to live his best and most authentic life, and then to see other young people sharing the video all over social media, and watching in solidarity with their own happy tears, well, it just gives us hope for the future. Here's to the young people who lead with love.
This article was originally published on