Trans Student Not Allowed To Take Shelter In Locker Room During Shooter Drill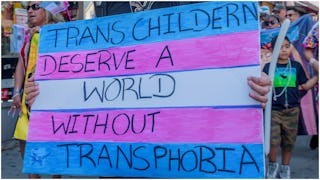 Image via Pacific Press/Getty
A trans student wasn't allowed to take shelter with the rest of her classmates during a drill
Today in news that will make your heart shatter into one million pieces, a trans student wasn't allowed to go to the girls' locker room during an active shooter drill. Instead, she was left to sit by herself in the gym while the adults discussed where they should put her. The whole incident inspired allies within the school's community to fight back.
Equality Stafford, a group of students, parents, and allies in Virginia, took to Facebook to share the middle schooler's story. They explained that Stafford County Middle School recently held a lockdown drill, which involved students going into locker rooms segregated by sex. The young girl wasn't allowed to join the rest of the girls in the locker room and was instead stuck sitting on the bleachers.
"The student was forced to watch the adults charged with her care, debate the safest place (for the other students) to have her shelter," the Facebook post noted. "During this debate, she was instructed to sit in the gym with a teacher until the drill was complete, away from her peers and identified as different."
Eventually, the student was told to sit in the locker room hallway, completely isolated from the rest of her classmates.
"During an event that prepares children to survive an attack by actual assailants, she was treated as if she was so much of a danger to peers that she was left exposed and vulnerable," Equality Stafford said. "These events occur across our country right now but this one happened here."
The group put out an important call to action. They asked that concerned community members turn out for an upcoming school board meeting and demand answers. Shares, likes, and angry comments quickly poured in.
In response to the backlash, Sherrie Johnson, the school's spokesperson, released a statement saying that they "take such matters very seriously."
"The new superintendent has requested a review of all protocols and procedures to ensure that all children are treated with dignity and respect," she said, per LGBTQ Nation. "…The welfare of all students is of the utmost importance for SCPS."
Meanwhile, Equality Stafford released a follow-up statement thanking members who spoke up for the student. The community organizers encouraged everyone to keep standing up loudly to injustice.
"There has been an overwhelming amount of responses and shares," the group wrote. "Please continue to support us and this family by highlighting what needs to happen and speaking up about your own stories. Thank you for speaking out for us, let's continue to do that in a way that lifts each other up."