Half Of Transgender Teen Boys Have Attempted Suicide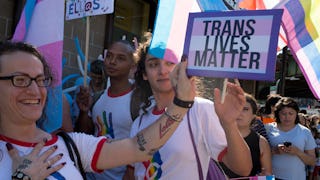 Image via Andrew Lichtenstein/Corbis via Getty Images
Suicide rates among transgender and nonbinary youth are horrifyingly high
Thanks to social media and a whole lot of headlines, I think most of us are at least vaguely aware that LGBTQ kids are likely to attempt suicide in their lives. But a new study has given us actual numbers, and the results are even more heartbreaking than we already realized. Transgender and nonbinary kids are in danger, and it's time we did more to help them.
The study, conducted by researchers at the University of Arizona and published in Pediatrics, found that 50 percent of trans teen boys have attempted suicide in their lives. 50 percent. Half.
Additionally, 41.8 percent of non-binary youth said they've attempted suicide, along with 29.9 percent of trans girls and 27.9 percent of teens who are unsure of their gender or questioning their identity.
That's compared to just 17.6 percent of cisgender girls, and 9.8 percent of cisgender boys. The numbers paint a clear picture: Suicide is being attempted by transgender and non-binary kids at much higher rates than their cisgender peers. "Transmasculine youth, as well as nonbinary youth, really lack a sense of community or visibility," Russ Toomey, lead author of the study, told Buzzfeed News.
The study was based on survey responses from more than 120,000 kids ages 11-19, including nearly 2,000 who identified as transgender, non-binary or questioning. It provided only numbers of kids who had attempted suicide, and not reasons why they tried to kill themselves. But experts already have some ideas about that.
"It was exceedingly upsetting, but this is not, unfortunately, anything new to our ears," Raffi Freedman-Gurspan, director of external relations for the National Center for Transgender Equality, told Buzzfeed News. "Overall what we hear from people who attempt is that they can't deal with the stigma. What we always try and say is that there's nothing that trans people have done — society is just so slow in accepting and it creates scenarios where people don't feel supported and safe."
She also noted the sobering reality that rates are likely even higher among trans kids because this study had what she called a "survivor bias." There's no real data collected in the U.S. about successful suicides among the transgender population, so the people who succeed aren't factored into these numbers.
This clearly shows an entire population of our kids that's in crisis. We have an obligation to help them, by stepping in to prevent bullying and discrimination whenever possible, and providing kids of all gender identities and sexual orientations safe and loving spaces in which to live, learn and grow.
The first transgender suicide hotline is now up and running in the U.S. You can reach Trans Lifeline at 877-565-8860. Trans Lifeline is a 501(c)3 non-profit dedicated to the well being of transgender people. They run a hotline staffed by transgender people for transgender people.