Another Transgender Women Of Color Was Killed In A Hate Crime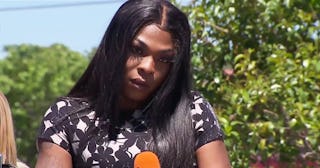 Muhlaysia Booker via CBS
After a minor car accident, Muhlaysia Booker was held at gunpoint by the driver of the other car she hit because he wanted her to pay for damages right then. Someone nearby suggested he would pay the driver $200 if he beat Booker for the trouble she had caused. So he did. Bystanders watched, cheered, and recorded this until a few other women finally stepped in to protect her.
Booker was a transgender woman. She was also a woman of color. She was shot to death a few weeks after the beating, but the two events may not be directly related. Either way, she is dead. And while both events are considered hate crimes, gender identity is not listed under the hate crime statute in Texas, where the crimes took place.
On the same weekend Booker was killed, another transgender woman of color was shot and killed in Philadelphia. Michelle 'Tamika' Washington was known for her advocacy work and mentorship. She was found dead with gunshots to her head and body.
Raquel Evita Saraswati, chair of Mayor Jim Kenney's Commission on LGBT Affairs, said this: "The Mayor's Commission on LGBT Affairs offers our solidarity, our commitment to #SayHerName, and a commitment to ending the plague of anti-black, anti-trans, and queerphobic violence that plagues not just our nation, but our own local community. Our community is nothing without black trans women, and we will mourn the loss of Michelle 'Tamika' Washington today and in the years to come."
No arrest has been made.
It doesn't feel like much progress has been made either. Last year, 26 transgender homicides were reported; most of the deaths were black women. Currently, there are only four states (California, Nevada, Illinois, and Rhode Island) that ban people from using the gay and transgender "panic" defense. This means that in all of the other states, a killer can blame their victim for their violence, specifically LGBTQIA+ folks. The stigma around sexuality and gender that do not follow strict heteronormative ideas is used to justify hate. And people really hate trans women of color. Four out of five anti-transgender homicides were against trans WOC. Racism, sexism, and transphobia are deadly forces, especially when combined.
Sarah McBride, transgender woman, author, and national press secretary for the Human Rights Campaign, says, "More people need to understand this epidemic of violence targeting marginalized people in this country, including transgender people, is hate-based and a byproduct of existing prejudice inflamed by politicians all too eager to appeal to the darker undercurrent of society."
Just existing is an act of defiance when you are transgender. From politics to lack of acceptance at home and school, transgender folks are often told not to exist. This leads to discrimination and lack of opportunities to succeed. And without a safe place to live, a safe work environment, and access to health care, risk factors for mental health struggles, self-harm, and violence rise. Visibility and inclusion will help chip away at the stigma, but until then one out of five transgender people experience homelessness, according to the Human Rights Campaign Anti-Trans Violence Report. The report also found that 41% of black transgender people have been homeless in their lives. 40% of transgender people held in federal and state detention report being sexually abused. 47% of transgender people have been sexually assaulted. Since 2013, over 130 anti-transgender deaths by violence have occurred. 26 were in 2018 alone.
We are supposed to be celebrating Pride in June. We are supposed to be rejoicing in the progress made in the representation and respect of LGBTQ folks. Pride is a time to feel seen and accepted or at least to feel like we have a place to try. Black transgender women barely have a place to live and sleep. And it's not for a lack of trying. Janet Mock and Laverne Cox are today's faces of black transgender activists; they are using their visibility to carry on the work that Lucy Hicks Anderson and Marsha P. Johnson did for queer people of color.
Johnson was present the night of the Stonewall riots and was said to have thrown the first brick in what become the pivotal point for the fight for LGBTQ rights. She became a powerhouse AIDS activist, but despite her tireless and very visible work, her fate was much like that of black transgender women today: She was found fully clothed in the Hudson River. Her death was ruled a suicide but later changed to undetermined.
There have been at least five transgender people killed already in 2019, and all have been black women.
I am sick.
I am scared.
I am angry.
I am transgender.
My daughter is transgender.
My privilege is that I am white. So is my daughter. I recognize this.
I worry more for my daughter's safety than my own. Perhaps that is foolish of me. I know it's because my love for my child pushes any worry for me away to make room for the fear and vigilance needed to keep her out of harm's way. When it comes to protection, it's hers I think about. When I see another transgender person hurt or killed, I see my daughter being hurt or killed. I see a senseless death manifest its way into what should be senseless and unfounded fears. It's hard to not envision the worst. But the truth is that I am a target. My daughter is a target.
My story can't be the only one you read about. The deaths of Muhlaysia and Tamika can't be the only stories you know of transgender women, specifically trans women of color. Make the spaces you occupy inclusive for transgender people. Ask people their pronouns instead of assuming them. Display a visible sign of allyship with a rainbow sticker or trans flag. Use your social media spaces to shut down bigots and celebrate stories about queer and transgender people. Be sure there are gender neutral bathrooms in your schools and work places. Be sure your kids have access to books and positive stories about transgender and gender nonconforming folks. And when someone asks you why these things are important, tell them it's because you believe the lives of transgender people are worth respecting and protecting.
Ignorance and fear are killing really beautiful people. Those people could be your kids or someone you love. Those people were loved. Those people are gone.
This article was originally published on