Travis Barker's Ex Wiped Their Kids' Pics From Her Insta After His Engagement
by Madison Vanderberg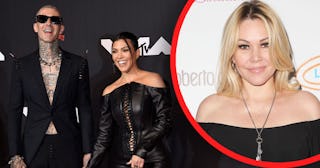 Evan Agostini/Invision/AP/Mediapunch/Shutterstock
Travis Barker's ex-wife Shanna Moakler deletes photos of their kids from her Instagram after they celebrate dad's engagement to Kourtney Kardashian
Last week, Travis Barker and Kourtney Kardashian got engaged. It was the biggest thing to happen on the internet that day and like everyone else, Travis's kids were celebrating, too. However, one person wasn't happy about the news (or her children's enthusiasm for it) and that person is Travis's ex and the mother of their children, Shanna Moakler — who deleted all recent photos of their kids from her Instagram account after the engagement.
Travis was married to Shanna Moakler from 2004 to 2006. They reunited in 2008 but split for good shortly after, filing for divorce.
The exes share two children together, Alabama, 15, and Landon, 18. Also, Shanna has a 22-year-old daughter, Atiana, from her previous relationship to Oscar De La Hoya, though Atiana appears to be very close with Travis and goes on family holidays with Travis and Kourtney and the kids. People reported that as recently as 2016, Travis and Shanna reportedly lived together to better co-parent their children. It's unclear when Shanna and Travis split houses.
Anyway, after Travis and Kourtney's engagement, Shanna wiped all recent photographs of their children from her Instagram page, shortly after the kids celebrated their dad's engagement with a private dinner with the Kardashians, which Landon chronicled on TikTok.
The photos that Shanna deleted include a tribute to her son, Landon, for his 18th birthday on October 8 and a recent selfie with her daughter, Alabama.
To make matters more complicated, Shanna and Travis's kids have spoken out recently about their fractured relationship with their mother.
Per People, back in May 2021, Alabama wrote on Instagram that "my mom has never completely been in my life. Can you guys stop painting her out to be an amazing mom? Did your moms ask to see you on Mother's Day cause mine didn't? I'm done keeping it a secret, reality shows."
In a TikTok that month, Landon shared that "you would realize our mom has never been in our lives and isn't there for us like our dad is."
That same month, Shanna told TMZ that the entire Kardashian family is to blame for her and her children's estrangement. She also claimed that Travis allegedly cheated on her years ago with Kim Kardashian.
"My family is broken because of this family and now my kids and I are alienated from each other because of another sister in the family, so yay for me," Shanna shared. "Thanks for destroying my family twice.
She later told Us Weekly that Kourtney is driving a "wedge" between her and her children and said that her kids' "accusations" against her "aren't true."
"They're being influenced by numerous people who are very calculating, very manipulative and there's nothing I can do except just be there for them [and] love them," Shanna added.
The whole thing is sad and complicated, especially considering how happy Shanna and Travis's kids seem to be all for their dad and his new love.