Travis Barker Calls Out 'Predatory' Musician Who Messaged His 13-Year-Old Daughter
by Christina Marfice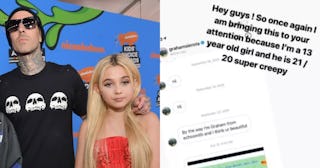 Emma McIntyre/Getty/Instagram
Travis Barker isn't letting Echosmith drummer Graham Sierota off the hook after his "predatory" messages
Blink-182 drummer Travis Barker is calling out another musician after it was revealed in screenshots that he sent some seriously creepy messages to Barker's very young daughter.
Alabama Barker is currently 13 years old. Echosmith drummer Graham Sierota is 20. Apparently, Sierota has been sending Alabama messages on Instagram for years, the first ones when she would have been freaking 10 years old. Now, she's sharing screenshots and both she and her dad are on a mission to (rightfully) cancel Sierota for being a giant creep to children on the internet.
The screenshots reveal that Sierota started trying to get in contact with Alabama in 2016. He sent her messages saying "Hi" at least three times, then another message that said, "By the way I'm Graham from Echosmith and I think ur (sic) beautiful."
Again, he was sending these messages to a girl who was 10 years old at the time.
Then, in July of this year, he slid into her DMs again, sending her an invitation to a barbecue. This time, she responded, calling out his age by saying, "Ur (sic) like 40."
His response? "…sorry for messaging and I'm 20."
She wrote back, "OK but u understand I'm a child?"
Alabama, rightly fed up with having to fend off the advances of a very legal adult, shared screenshots of the messages to her Instagram story, writing, "Hey guys! So once again I am bringing this to your attention because I'm a 13 year old girl and he is 21/20 super creepy."
That's when her dad got involved, telling a reporter, "When I found out a 20-year-old man was trying to get in touch with my 13-year-old daughter by filling her messages with party invites and compliments, I was disgusted. That's predatory behavior and there is nothing cool, normal or OK about it at all."
Predatory is right. There is absolutely no reason on this planet for Sierota, who would have been 17 when the messages began in 2016, to be messaging a 10-year-old that she's beautiful. And there's even less reason for Sierota, now a 20-year-old legal adult, to be messaging a 13-year-old with a party invitation. It's frankly horrifying behavior, and you have to wonder if he's done it to other kids. Let's say it together now: There is nothing normal about finding a 10-year-old attractive.
Sierota has since released his own statement about all this, saying he didn't know Alabama was underage and apologizing to her family. Hard to take it seriously, because no one on this planet is mistaking a freaking 10-year-old for an adult, but OK. For reference, here's a photo from Alabama's Instagram in 2016. That is a little girl. It's shocking and disgusting.
"I had invited Alabama to my parents' big family BBQ along with many other people, and it wasn't until she responded that I realised her age at which point I apologised to her," Sierota said. "I'm really sorry and feel very badly about this. I didn't realise she was a minor and assumed she was my age. I made a careless mistake and this is a big lesson for me. I would like to apologise again to Alabama, her dad Travis, and her family."