Travis Scott To Donate All Profits From Tour Merch To Planned Parenthood
by Christina Marfice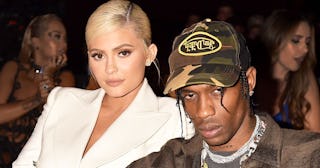 Jeff Kravitz/FilmMagic/Getty
Travis Scott announced the move onstage at Hangout Fest, saying it was in support of the people of Alabama
If there's one organization that needs all of our support right now, it's Planned Parenthood. PP fights tirelessly for women's bodily autonomy, healthcare and reproductive rights, and as more and more states pass extremely restrictive abortion laws designed to challenge Roe v. Wade at the Supreme Court, those dollars will go toward the lawsuits against states that will help ensure that abortion remains a right available to all women. One person who just joined that fight? Travis Scott.
Scott's girlfriend, Kylie Jenner, announced on her Instagram story that Scott would be donating all of his profits from merchandise sales at Hangout Fest this year to Planned Parenthood. He later announced it himself onstage at the festival, saying the donation is in support of the people of Alabama.
"I want to just donate my net profits from my merch today to Planned Parenthood," he said. "We feel for those out in Alabama. I love y'all. I just wanted you to know that love is the strongest feeling we have."
This is after Alabama passed a law that effectively bans all abortions in the state, even in cases of rape or incest. Alabama's governor has been open about the fact that the law is designed to invoke legal challenges in the hopes that the Supreme Court will take up the issue of abortion and overturn Roe v. Wade. Yep, in 2019, this is actually happening.
Planned Parenthood is one of the organizations that promised swift legal action against the State of Alabama, which will hopefully prevent the law from ever taking effect. The ACLU has also vowed to sue the state.
Meanwhile, Travis Scott and Kylie Jenner are far from the only celebrities who are speaking out about this.
Lady Gaga sent her love to the people of the state in a note posted to Twitter.
Rihanna also spoke out.
As did Reese Witherspoon.
What makes the whole situation even more heinous is that Alabama is not alone in this. The state is getting a lot of attention because it passed the strictest law, which criminalizes all abortion except in some cases where the mother's life is in danger. But many other states, including Georgia, Mississippi, Kentucky, Ohio and Missouri, have passed laws this year restricting women's access to abortions more than federal laws do. In several of those states, lawmakers hope to ban abortion as early as 6-8 weeks, before many women even know that they are pregnant.
It's insane that we're living through a fight like this, against something that was declared constitutionally legal in 1973. Somehow, more than 35 years later, women are still fighting for the right to control their own bodies. With the support of people like Travis Scott, Planned Parenthood, the ACLU and others, though, we will continue to win.