'Tree Of Life' Breastfeeding Photos Are Taking Over The Internet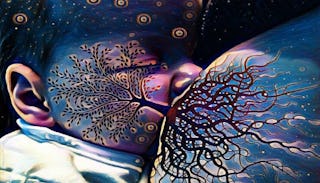 Image via PicsArt
Mothers are sharing stunning breastfeeding photos created with a special app
In case you thought it was impossible to make an image of a breastfeeding mother nursing her child any more beautiful, think again. The photo editing app PicsArt is taking breastfeeding selfies to a whole other level: Art (yes, with a capital "A"). Women from around the world are uploading their "brelfies" (if you're not familiar with the term, it's a breastfeeding selfie) into PicsArt and making gorgeous masterpieces with the TreeOfLife edits.
The hashtag #TreeOfLife is trending on Facebook and many others are posting the photos on social media platforms like PicsArt, Instagram, and Twitter. The women are sharing the edited photos, many with personal anecdotes about the image. The images are not only gorgeous, but a wonderful nod to normalizing breastfeeding here and all over the world.
"The tree of life has served as a symbol for connecting all forms of creation throughout most of our history," wrote the folks at PicsArt. "Recounted in folklore, culture and fiction, it has often related to immortality or fertility. Today, it has become a representation of the #normalizebreastfeeding movement."
Besides all the beauty to behold in the photos, there's another form of beauty at work here that goes deeper than what you see. It's unbridled, enthusiastic, and loving support. Support for women. Support for mothers. Support for families. We can't think of many things more awe-inspiring than that.
We wanted to share some of the lovely images below and a tutorial on how to create your own TreeOfLife image.
Here is a quick tutorial we found on YouTube from PicsArt, enjoy!
This article was originally published on