Triplet Mom Who Went Viral For Her Baby Bump Shares Postpartum Belly Pics
by Valerie Williams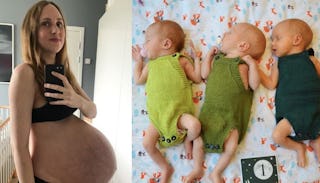 Image via Triplets of Copenhagen
Triplet mom shares updates after giving birth to her babies
We last heard from Copenhagen mom Maria just a day before she was due to welcome triplets into the world. Photos and video of her mind-boggling baby bump had people in complete awe. And now that the little ones are here and home from the hospital, Maria's Instagram has been full of honest postpartum body updates and images of life with infant triplets — and a toddler.
Basically, she's superwoman.
You may recall Maria looking extremely pregnant (and extremely lovely) in her viral photo just days before giving birth to sweet Iben, Filip, and Agnes.
Two days after that photo was taken, her two daughters and one son came into the world.
https://www.instagram.com/p/BnpED3BBebX/?taken-by=triplets_of_copenhagen
By day four, Maria was already back to giving honest glimpses into her triplet mom life and shared her very first postpartum belly pic. "What a woman needs to go through!" she writes. "Day 4 and it has been quite a ride body wise. The first two days I could barely stand up because of extreme pain in the c-section wound, but the nurses made me walk a bit anyway. If I didn't, it would become even worse, they told me. In addition to that it has been three days with my bowels constantly twisting and turning like snakes (you wont believe the sight of it!), causing much pain."
She's continued to document the changes in her belly as she recovers from her triplet pregnancy and birth.
Her most recent belly update was taken at four weeks post-birth. "I still have a weird looking hanging belly, and I am a bit surprised it has not gotten smaller since my last picture three weeks ago," she says. "Kind of disappointing I must admit, and I am not too happy to share this picture." But on a brighter note, she reports feeling more like herself and her incision no longer hurts.
https://www.instagram.com/p/BozlzLriFel/?hl=en&taken-by=triplets_of_copenhagen
Of course, there are many adorable newborn photos too. Here's the three littles at just a week old.
After nine days in the NICU, their family was able to head home. "We are on a so called 'early home stay', which means that we get visits from a nurse twice a week who weighs the babies and brings the supplies we need for tube feeding," she writes. "And when the tubes are out, we are officially out as well." ⠀
https://www.instagram.com/p/BoFMO_giy3M/?hl=en&taken-by=triplets_of_copenhagen
Now that they're at home, Maria says life is obviously pretty busy for the new family of six. "There's always something that needs to be done, if it's not breastfeeding, pumping, bottle feeding and changing diapers, we have to wash and sterilize bottles and pumping gear, do the never-ending laundry and other chores," she tells Scary Mommy.
She says usually at least one of the babies wants to be carried, "…and we also make sure there is some room for cuddling our cutie pies," she tells us.
https://www.instagram.com/p/BofHCULimjB/?hl=en&taken-by=triplets_of_copenhagen
Maria says, "In the time that is left, we try to eat, take a shower, and maybe relax for a few minutes. And when our toddler is home from kindergarten – mornings, afternoons and weekends, we do our best to give him a lot of attention as well."
Her husband, Anders, is home until New Years. "Extremely glad that we have some savings to use, and kudos to all the triplet moms out there doing it all by themselves!" she writes. She also notes that they're getting help from other family members while the babies are still so young and in need of round-the-clock care.
In the meantime, the family is just enjoying being together — and seeing their little ones grow bigger every day.