Infant Ibuprofen Sold At Three Major Retailers Is Being Recalled
by Julie Scagell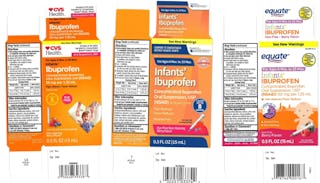 Images via Tris Pharma
Higher concentrations of ibuprofen could lead to permanent kidney damage in babies
If you have infant ibuprofen lying around, you may want to check out the brand. Tris Pharma is recalling some of the infant ibuprofen sold at Walmart, CVS Pharmacy, and Family Dollar stores nationwide because the pain medicine may contain overly high concentrations of the drug which can cause adverse effects for little ones.
These medications are packaged under the private-label brands of all three retailers, and Tris said there's a "remote possibility" this higher level of ibuprofen could lead to permanent kidney damage in babies. Other possible side effects include nausea, vomiting, stomach pain and diarrhea, tinnitus, headache, and stomach bleeding.
The recalled products sold at Walmart had expiration dates of February 2019, April 2019, and August 2019. The ones sold at CVS and Family Dollar expire in August 2019 and were packaged in 0.5 oz. bottles labeled "Infants' Ibuprofen Concentrated Oral Suspension," used as a pain reliever and fever reducer.
Walmart sells the recalled product under their "Equate" label and the products being withdrawn have NCD number 49035-125-23 and lot numbers 00717009A, 00717015A and 00717024A on their label.
CVS sells it under their "CVS Health" label, with NCD number 59779-925-23 and lot number 00717024A.
Family Dollar offers it under their "Family Wellness" label with the NCD 55319-250-23 and lot number 00717024A.
Tris Pharma Inc. — a Monmouth Junction, New Jersey-based drug maker — said it sold the affected lots "to one customer, which distributed the lots into the U.S. market," and said it sent out an "urgent recall notice," arranging for the return of the recalled product. This is a voluntary recall.
"There is a remote possibility that infants, who may be more susceptible to a higher potency level of drug, and therefore may be more vulnerable to permanent NSAID-associated renal injury," according to Tris Pharma's press release. "Adverse effects that may be experienced are nausea, vomiting, epigastric pain, or more rarely, diarrhea. Tinnitus, headache and gastrointestinal bleeding are also possible adverse effects."
As of today, no reports of any customers suffering from complications mentioned above have been shared, as noted in the press release. As a precaution, retailers are expected to take the affected product off shelves and consumers are being asked to review any products they have at home and return them for a full refund.
If you have questions or concerns regarding this recall, you can contact Tris Customer Service at 732-940-0358.
This article was originally published on