There's A Trolls Series Coming To Netflix - Your Kids Are Gonna Freak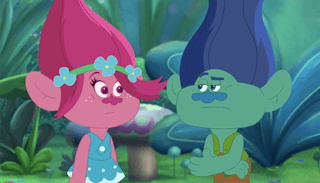 Image via Netflix
The series is called Trolls: The Beat Goes On
If your kid is on their 12,000th viewing of the Trolls movie, you'll be happy to hear what Netflix has coming out this month: a Trolls TV series.
That's right — finally, the Trolls your kid is addicted to with new storylines and songs so you don't lose your mind. Because if you have to have children's shows on 25 hours a day, at least a little variety makes it better.
But let's face it — even you're a big fan of the adorable movie, even if you can recite it all in your sleep. And when it gives you enough time to use the bathroom alone and cook dinner, you'll love the new show just as much.
According to Netflix, the show is called Trolls: The Beat Goes On, and episodes begin airing January 19th. The series will feature the voices of Amanda Leighton and Skylar Astin. You may remember Astin from the film Pitch Perfect, and we have to wonder if Trolls star Anna Kendrick helped him get this gig. She won't be in the TV version (and neither will Justin Timberlake), but we doubt your kiddos will notice.
The new series is a collaboration between Netflix and Dreamworks, so it should be just as incredible as the movie. We're praising the children's entertainment gods that this is happening, because after that Trolls holiday special, we thought we'd have to wait until the Trolls 2 release in 2020 to get some new material. Once again, Netflix pulls through for us in a clutch.
Nine more days to wait for the series to drop, hang in there!