Justin Timberlake & Anna Kendrick Are Back In New 'Trolls World Tour' Trailer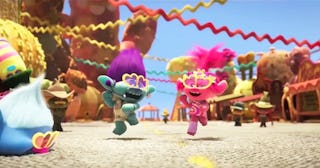 Universal Pictures
The newest trailer for Trolls World Tour features a stacked cast of musical talents ready to dance battle for the fate of the world
While there's nothing wrong with rock music, a world where that's the only kind of music that exists is no world we want to live in. Give us pop, country, classical, and blues. That's why, in Trolls World Tour, it's going to take trolls from all kinds of backgrounds banding together to save their world from a fate of having just one kind of music to listen to — forever.
Justin Timberlake and Anna Kendrick are back, lending their voices to Branch and Poppy. In the new movie, they discover they're part of just one of six tribes of trolls that are scattered in different lands all over the world, and in each land, there's a different type of music its inhabitants love and perform — funk, country, techno, classical, pop, and rock. In the rock land, however, there's a plot underway. The evil Queen Barb (voiced by Rachel Bloom) and her father, King Thrash (who gets his voice from the legendary Ozzy Osbourne), are out to steal magical guitar strings from each musical land. As Queen Barb proclaims, "I'm going to unite the six strings and destroy all music — except for rock!"
Naturally, the trolls aren't down with losing all music except for rock, and it's up to Branch and Poppy to gather their friends and set out to stop Queen Barb and save all the music in the world. Along the way, they'll get to explore a lot of new lands — and their music.
A music-themed sequel to the original Trolls movie is an amazing idea, considering the absolute bop Timberlake created for the first movie. "Can't Stop the Feeling" was nominated for an Oscar and won a Grammy, but it also dominated airwaves for the entire summer after it was released. If more original music is coming with the sequel, we'll be first in line to hear it when this movie hits theaters. And with Timberlake producing the soundtrack, we're willing to bet there will be.
Plus, the cast is absolutely stacked. In addition to Timberlake, Kendrick, Bloom, and Osbourne, the movie features characters voiced by Mary J. Blige, George Clinton, and Anderson Paak in the funk land; Kelly Clarkson in the country land; J Balvin in a reggae world; and famous conductor Gustavo Dudamel providing the music for the famous "Trollzart" in the classical land. There will also be trolls voiced by James Corden, Sam Rockwell, Kenan Thompson, Jamie Dornan, Flula Borg and Anthony Ramos.
Trolls World Tour hits theaters in 3D on April 17.