Justin Timberlake Confirms 'Trolls' Sequel And We Have No Chill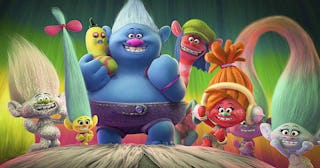 Dreamworks
We've all been jamming to Trolls since 2016, so the 2020 sequel can't come soon enough
Trolls ended up being the hit of the year back in 2016, and, let's be honest, we're still rocking out to the awesome soundtrack whether our kids are in the car with us or not. What's even more exciting is that there's going to be a Trolls sequel — and it looks like the fun and the music are going to be back and better than ever.
Justin Timberlake took to his Facebook page to share the exciting news, along with a sneak peek image of what's to come: Trolls World Tour will be coming our way next year.
Produced once again by Dreamworks, the story will apparently pick up right where left them:
"Continuing where the first film left off, it's all glitter and happiness in Troll Town until Queen Poppy and Branch make a surprising discovery — there are other Troll worlds beyond their own, each defined by a different genre of music," the Dreamworks description reads. "When a mysterious threat puts all the Trolls across the land in danger, Poppy, Branch, and their band of friends must embark on an epic quest through unfamiliar terrain to do the impossible: create harmony among the diverse Trolls to unite them against certain doom."
Joining JT in the sequel are original stars Anna Kendrick as Princess Poppy, James Corden as Biggie, Aino Jawo as Satin, Ron Funches as Cooper, and Kunal Nayyar as Guy Diamond. There will be new faces in Troll Village, however. Who, you ask? Oh, NBD, just KELLY FREAKING CLARKSON starring as a new character, "Delta Dawn," and Jamie Dornan is also joining the cast.
Yes, that Jamie Dornan.
Hamilton and A Star is Born's Anthony Ramos will be in the sequel too, and so will Sam Rockwell, among others.
Arguably the best thing about the original Trolls movie is the soundtrack, which is jam-packed with hit after hit. "Can't Stop the Feeling" by Timberlake has been stuck in pretty much everyone's head for almost three years now, so the expectations for the second movie's songs is…high. Dreamworks says not to worry, the sequel will deliver on that front.
The movie's music will be "cleverly woven into the narrative of the film as story-telling elements. The all-new installment of the franchise expands the series' music genres, representing a variety of songs from pop, country, and hip-hop, to hard rock, funk, K-pop and EDM – as well as everything in between."
Aside from some real banger songs, Trolls is about love, kindness, self-acceptance, and being brave. It's a super sweet movie for kids of all ages and an absolute delight for grown-ups, too (the same creative minds were behind Shrek, so it's no surprise it's popular with everyone). The movie was so successful, there's even a Netflix spinoff show for kids.
April 2020 can't come soon enough!
This article was originally published on