You Can Buy Girl Scout Cookies From Troop Of Girls In NYC Shelter System
by Julie Scagell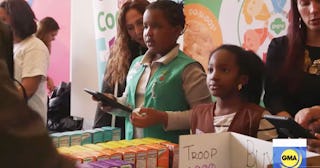 Good Morning America/Youtube
100 percent of every purchase goes to supporting Troop 6000
It's Girl Scout cookie season, which means it's time to stock your kitchen with delicious boxes of Thin Mints, Samoas, and, well, more Thin Mints. If you don't already have a troop to support (and even if you do), consider ordering through New York City's Troop 6000 to support girls living in NYC shelters.
Troop 6000 was designed specifically to help support girls living in the New York City shelter system. The shelter system provides temporary housing to families looking for permanent housing, to reduce the number of people living on the streets, and to help families become stable financially. The average length of stay in the system is 18 months, according to the city. Families with children make up the majority of New York City's population of people experiencing homelessness at 68 percent of the 70,000 people living in shelters, including approximately 12,000 girls.
Troop 6000's goal is to provide girls living in the shelter consistency and community. The Girl Scouts in Troop 6000 meet at 20 different shelters across the city and during COVID have been finding ways for the girls and troop leaders to connect online. The goal is to "build their network, be carefree, and gain confidence in new situations."
In addition to earning badges and learning critical life skills, the girls sell the organization's infamous cookies. For the second year in a row, Troop 6000's cookie sales will be exclusively online. According to the Troop 6000 page where you can order cookies, "100% of the proceeds from each box of cookies sold by Troop 6000 supports their troop experience and is used to pay for things like badge activity supplies, uniforms, field trips, and trips to camp!"
"All of us at Girl Scouts of Greater New York are blown away by the recent outpouring of support for Troop 6000 in the form of Girl Scout Cookie purchases, and we are incredibly thankful that so many have felt moved to help us sustain and grow our effort to serve girls living in New York City family shelters," Heidi Schmidt, director of Girl Scouts of Greater New York's Troop 6000, said in a statement.
The group also established a program to help support girls as they leave the shelter system. The Transitional Programming Initiative, which started in 2018, ensures these girls have the financial support to be able to join Girl Scout troops in their new communities.
If cookies aren't your thing, you can also buy boxes on their page and donate them to others, including NYC shelters, or you can donate to Troop 6000 directly by visiting girlscoutsnyc.org/donate and selecting Troop 6000 as your gift's designation. "Supporting Troop 6000 financially is one of the best ways to ensure we can continue to welcome new girls to the Troop and give each girl we serve an authentic Girl Scout experience."
This article was originally published on