#WhyIDidntReport Answers The President's Victim-Blaming Tweet
by Cassandra Stone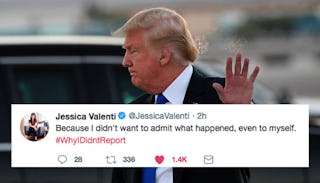 Image via MANDEL NGAN/AFP/Getty Images/Twitter/Jessica Valenti
Women everywhere are coming forward with #WhyIDidntReport
In a particularly awful tweet this morning, Donald Trump engaged in the right-wing victim-blaming surrounding Dr. Christine Blasey Ford. Dr. Ford recently brought forth very disturbing sexual assault allegations against Supreme Court nominee Brett Kavanaugh, and, unsurprisingly, Trump has been Kavanaugh's #1 public defender. Especially today, when he decided Dr. Ford's claims couldn't be valid because she didn't report them 36 years years ago, when she says Kavanaugh assaulted her.
Victims of sexual assault took to Twitter and immediately began using the hashtag #WhyIDidntReport to let the President — and anyone else with a blindingly sexist take on assault — why we don't report it.
"Charges would have been immediately filed…" Yeah, that sounds like a nicely wrapped reaction to sexual assault, doesn't it? Very tidy. And very unrealistic.
According to RAINN, on average, there are 321,500 victims (age 12 or older) of rape and sexual assault each year in the United States. Women, especially young women, are at much higher risk for being a victim of sexual assault and rape. College-aged women are three times more likely to experience sexual violence.
Out of all of these assaults, only 310 of every 1,000 will be reported to police — which means two out of three assaults go unreported. Of the unreported sexual violence crimes, a majority of victims cited fear of retaliation as the main reason they didn't report their assault. Many also cited their beliefs that law enforcement wouldn't do anything to help. 8% of victims believed their assault wasn't "important enough" to report.
This is how victims of sexual assault are conditioned to think — that our assault isn't important enough. That police, college administrators, or community leaders won't care anyway. That we'll be ostracized for coming forward. That the anger and retaliation abusers and their supporters will engage in will be worse than suffering in silence.
Let's not forget, Donald Trump gave the exact response to Dr. Ford's allegations that a man who has been accused of sexual misconduct multiples times himself would give. An abuser's response.
Every single #WhyIDidntReport story is heartbreaking and deserves to be read and listened to. I didn't report my own because I was more scared of what would happen to my life if I did, than of the trauma of burying it and shaming myself into silence.
We must believe women. We must listen to their stories. But it feels impossible to change the cultural landscape of how we talk about sexual assault, how we treat victims of violent sexual crimes, when the leaders and men in power won't hear our voices.
This article was originally published on