Trump Administration Takes Major Step In Restricting Abortion Access
by Thea Glassman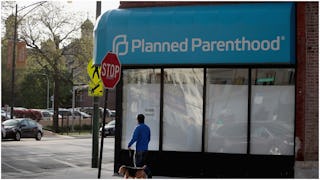 Image via Scott Olson/Getty
The Trump Administration wants to pull federal funding from family clinics that offer abortion referrals
Another day, another awful step towards restricting women's reproductive rights. The Trump Administration announced on Friday that family clinics can no longer offer abortion referrals if they would still like to receive federal funding. This new rule would completely revamp the Title X family planning program, which supports 4 million people every year.
Under the new rule, clinics that offer abortion referrals will no longer receive crucial federal funding for STD prevention, cancer screenings, and contraception, NPR reported. The rule is also inching one step closer to defunding Planned Parenthood. The Trump Administration's revamping of Title X means that any Planned Parenthood that accepts federal funding from Title X will not be allowed to perform abortions or making abortion referrals.
Clinics will still be allowed to offer contraceptives but can partner with faith-based providers that preach abstinence. Basically, through this new plan, doctors won't be able to have important conversations with their patients about all of their options. Health care providers are speaking out against this new rule and explaining that the Trump Administration is stripping patients of their fundamental rights.
"This rule compromises the oath that I took to serve patients and help them with making the best decision for their own health. Patients expect their doctors to speak honestly with them, to answer their questions, to help them in their time of need," Dr. Leana Wen, President of Planned Parenthood Federation of America, said in a statement. "Imagine if the Trump administration prevented doctors from talking to our patients with diabetes about insulin. It would never happen. Reproductive health care should be no different."
There's also the major issue that Title X offers care and support to low-income patients, the majority of whom are women. This new rule could effect their reproductive health and limit their options.
"This rule intentionally strikes at the heart of the patient-provider relationship, inserting political ideology into a family planning visit, which will frustrate and ultimately discourage patients from seeking the health care they need," Clare Coleman, president and CEO of the National Family Planning & Reproductive Health Association, explained in a statement. "This clear attack on family planning care could result in lower-quality care or none at all for people struggling to make ends meet."
The Trump Administration's revision of Title X will go into effect 60 days after it is published in the Federal Register. In the meantime, the fight has commenced. While some Republicans in Congress were celebrating this new rule (Sen. Joni Ernst (R-Iowa) called it a "significant step forward"), Democrats are rolling up their sleeves and preparing to push back.
"Stopping this is going to be the priority," Sen. Patty Murray (D-Wash.), a member of the Senate Health, Education, Labor and Pensions Committee, said. "We have lived through two years of constant attacks on so many aspects of women's health and economic security — on Planned Parenthood, Title X, the [Affordable Care Act]. Now that we have a Democratic House, we have a much better break on it."