Trump Administration Denies California's Request For Federal Wildfire Aid
by Christina Marfice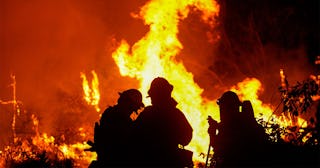 Kent Nishimura/Getty
California needs millions to recover from this brutal wildfire season. The Trump administration just told the state it's on its own
California has been having one of its worst wildfire seasons in history. The Creek Fire, the largest wildfire in the state's history, burned at least 341,722 acres across Fresno and Madera counties. The Bobcat Fire burned at least 115,796 acres in the Angeles National Forest in Los Angeles County. Those and other fires this year have destroyed nearly two million acres across seven counties, and torched more than 3,000 structures, including nearly 1,000 homes, and killed dozens of people, including a firefighter. And the Trump administration just declined to declare a disaster, meaning California is cut off from federal funding that could help it recover.
California Governor Gavin Newsom wrote a letter to the Trump administration late last month, asking for funding and recovery assistance.
"The severity and magnitude of these fires continue to cause significant impacts to the State and to the affected local jurisdictions, such that the recovery efforts remain beyond the State's capabilities," Newsom wrote. "Many of the counties impacted by these wildfires are still recovering from previous devastating wildfires, storms, and the effects of the COVID-19 pandemic."
But a spokesperson for the California Governor's Office of Emergency Services confirmed to news outlets this week that the Trump administration rejected that request. The state believes that the wildfires and damage it's suffered meet the threshold for receiving federal aid, and officials say it "isn't clear" why the Trump administration denied Newsom's request.
Well, I have some theories.
Last year, during another devastating wildfire season, Trump threatened to cut off aid to California after Newsom criticized his environmental policies. Trump has repeatedly claimed that worsening fire seasons are caused by poor forest management, when in reality, climate change is what's making the season longer and more brutal every year.
In just the last few days, Trump has dragged the state of California on Twitter numerous times.
Just last week during a looney tweet storm, he claimed that the state is "going to hell."
In another tweet, Trump mentioned the forest fire management he still falsely claims is responsible for the state's devastating fire seasons.
So, if you are wondering why the Trump administration denied federal aid to California, the president's recent comments makes the reason seem anything but "unclear."
"Federal assistance is critical to support physical and economic recovery of California and its communities," Newsom wrote. "The longer it takes for California and its communities to recover, the more severe, devastating, and irreversible the economic impacts will be."
Meanwhile, infrastructure damage alone from this year's fires is estimated to take more than $229 million to repair. Gov. Newsom estimated that the state would need $346 million in federal help to fully recover. And Trump just told Newsom and all the people impacted by these devastating fires that they're on their own. Vote him out.